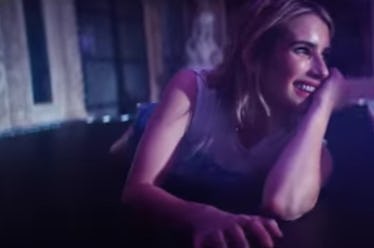 Drake's New "Nice For What" Music Video Features All Your Favorite Celebrities
Pretty much anything is possible, my friends — because after an insufferably long week, it is finally the weekend. And while I'm sure your Saturday night plans are nothing short of spectacular, you might want to take a moment and watch Drake's new music video. The rapper released a video for his song "Nice For What," and it'll really heat things up. Not only is the jam incredibly catchy, but there's a also cast of super awesome celebrities in Drake's "Nice For What" music video. And honestly, unless you're a robot, you'll definitely want to watch it over and over again.
OK, this might be a hot take, but the "Nice For What" video might have an even more star-studded cast than 2010's cheesiest rom-com,Valentine's Day (not that I actually saw that, or anything). Anyway, the music video opens with a clip of Olivia Wilde dancing in a gown and being her gorgeous self. The excitement doesn't stop there, though. The following clips unexpectedly show so many other fantastic (and extremely talented) actresses and musicians, including Misty Copeland, Issa Rae, Rashida Jones, Jourdan Dunn, Tracee Ellis Ross, Tiffany Haddish, Yara Shahidi, Zoe Saldana, Elizabeth Lejonhjarta, Victoria Lejonhjarta, Letitita Wright, Bria Vinaite, Emma Roberts, Syd, and Michelle Rodriguez. So yeah, let's just say that the cast is a total dream team. Make sure to watch the video below if you haven't seen it, like, a million times already.
According to Pitchfork, "Nice For What" samples an oldie-but-goodie song called "Ex-Factor," an R&B groove by my personal favorite '90s badass, Lauryn Hill. "Nice For What" was produced by Canadian music producer Murda Beatz, who also worked on Drake's More Life mixtape as well as his 2016 album release, Views. According to Variety, the "Nice For What" video was directed by Karena Evans, a 22-year-old Toronto-born director.
In case you're wondering what else Drake is currently up to (because I know I always am), then you might be interested in the rumor that Drake might be working on new music with Kanye. Um, I'm sorry... what? I know, the idea of that actually happening is kind of unthinkable. Is it even possible for the two of them to actually be in a room together without the world exploding? In all honesty, I'm not entirely sure. Theo Skudra, Drake's personal photographer and videographer, posted an Instagram Story in Jackson Hole, Wyoming around the same time Kanye West was supposedly working there. Apparently, Kanye was preparing for his upcoming album in the mountains, which was further proved by Kim Kardashian's Snapchat from early March. So, were Drake and Kanye in the same place at the same time working on music? Or was it a coincidence? I guess we'll find out.
In other Drake-related news, the Canadian rapper might also guest star in Season 2 of Hulu's sci-fi drama, The Handmaid's Tale. Say what? After Season 1 ended, Margaret Atwood, the author of the book which the show is based off of, reportedly shared that she was down to have Drake appear in Season 2. The idea came to be when another author, Junot Diaz, suggested casting more Canadian stars in the show — and Atwood reportedly got excited when Drake's name was mentioned. This might end up being Drake's best acting role since he was Jimmy in his Degrassi days, and I am so ready for it.
While "Nice For What" is a super catchy song, each and every one of the amazing women casted in the video made it unforgettable. BRB while I annoy my roommate and watch it three thousand times, because you better believe it's going to be bumping from my room all weekend. As usual, Drake is totally killin' it — and TBH, I seriously cannot wait for his next hit (which I'm really hoping will include Kanye).