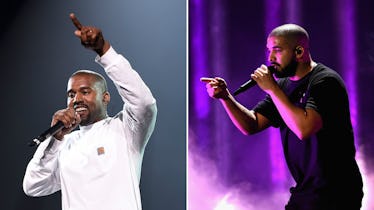 Kanye West & Drake May Be Recording A Song Together & We're Seriously Hype
Dimitrios Kambouris/Kevin Winter/Getty Images Entertainment/Getty Images
Today is a good day, people. The sun is shining (somewhere), the birds are chirping (also, somewhere), and it looks like we may be getting some new music from our favorite rappers Kanye and Drake. Say whatt? Are Kanye West and Drake recording a song together? Are they releasing new music separately? What's the tea? Well, from the looks of it, the two *might* be making some sweet, sweet music and collaborating on Kanye's next album, and there are photos to prove that theory.
Do you know Theo Skudra? Well, you do now, because he's Drake's personal photographer and videographer, and on Thursday, he posted a video to his Instagram story. No biggie, obviously.
In the video, though, Skudra shows off an enviable view: snow-capped mountains, blue skies, and a beautiful balcony with log wood railing. Clearly, we're not in LA anymore.
Just a small, quick thing: If anyone — and I literally mean anyone — wants me to be their personal photographer and travel around the globe with them, I am absolutely available for hire. I will photograph the crap out of you if you bring me to destinations I'd never dreamt of, like the Netherlands. Or the Maldives. Or even Pittsburgh. I'm honestly not that picky.
But, I digress.
So back to Skudra's Instagram story. The view looks beyond lovely (and honestly, I could have shot that same footage, just saying):
But hold up. Wait a second.
If I remember correctly, our good friend Kanye West is supposedly preparing for his upcoming album in Jackson Hole, Wyoming. You know, a mountainous and beautiful place that sorta looks like the photo above?
Before you think it's just speculation, why don't we have a look at Kim Kardashian's Snapchat:
Of course, you can't miss Kim's reflection selfie. A+. Nailed it. But look past her (I know it's hard).
Do you see those snow-capped mountains? Do you see those blue skies?
DO YOU SEE THAT LOG WOOD RAILING?
I'm calling it: Yeezy's new album is totally going to have a song featuring Drizzy, and I am LIVING FOR IT.
I mean, you never really know with these two (it feels like they can be hot or cold, depending on the month), but I'm fully hoping that Kanye and Drake squashed all of their beef and are just getting together to make some music for our earbuds, because it's what the world needs and deserves.
Fans got realll excited back in August of 2016, when Drake hinted at the possibility of collaborating with Mr. West for a new album on stage:
In the video, he tells the audience, "Y'all ready for this album?... I wasn't talking about Pablo. I wasn't talking about Views. I want to ask you right now, ya'll ready for this album?" And the world collectively was like, HELL YES, WE'RE READY.
But the idea seemed to have fizzled out, because, hello, no album to show for it.
So the mere fact that Kanye and Drake are *possibly* in the same place, at the same time, snapping the same things gives me a insurmountable hope.
God, if you're listening, please make this happen. You know I don't ask for much, so when I ask that Kanye West feature Drake on a song (or four) for his new album, just hear me out, OK? Thanks in advance.
And, while it's reported that rappers like Travis Scott, NAS, and Kid Cudi are on the musical ski trip too, it would really mean more to me for Drake to be there.
Because Drake and Kanye are like peanut butter and... peanut butter.
They are literally the same in the most perfect of ways.
The end.