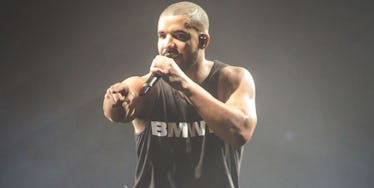 Drake Wears A Kanye West Mask During His Concert, Proves There's Still Beef
REX/Shutterstock
Kanye West and Drake need to either hook up or never acknowledge each other ever again because this whole will-they-won't-they thing they have going on is exhausting.
While on the Copenhagen stop of his European Boy Meets World Tour, the former Mr. JLo decided to harness his inner-Carrot Top and add some a Kanye West-themed prop to his show that is confusing the hell out of the entire internet.
This video taken by a Danish Drizzy fan who attended the concert shows Drake putting on the mask.
According to the video, after he put on the mask he told the crowd,
I got the Yeezy mask on now. You're not gonna fuck with me tonight now!
No other explanation was given as to why he was doing this.
WTF.
Drake and Kanye have one of the weirdest relationships in Hollywood, which is saying a lot for a guy who tweets stuff like this:
It's unclear exactly how Drake and Kanye feel about each other.
A quarter of the time they are clearly beefing, a quarter of the time they are collaborating on new music, a quarter of the time they spend denying the fact that they're fighting and the last quarter is spent sort of teasing that they are working on new music together without any actual results.
Back in August, Drake randomly hinted that the two were working on an entire album together, though nothing has happened since then.
In the video, he tells the audience,
Y'all ready for this album?... I wasn't talking about Pablo. I wasn't talking about Views. I want to ask you right now, ya'll ready for this album?
A few months later, during Kanye's gone-too-soon St. Pablo Tour, Kanye seemingly called out Drake for stealing his signature floating stage idea.
During the rant, which was also captured by a concert goer, Kanye told the crowd,
Niggas be copying my shit, bro. Stealin' our shit, stealin' stages. Copying our shit one-to-one.
So who effing knows what is happening between these two.
CAN YOU GUYS JUST KISS ALREADY SO WE CAN GET ON WITH OUR LIVES?!?!
Citations: Drake Wore A Kanye West Mask At His Concert This Week (Refinery 29)