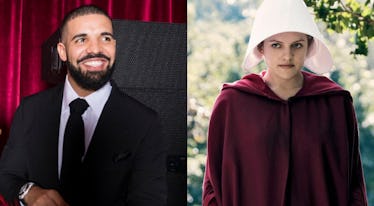 'The Handmaid's Tale' Cast Shares Ideas For A Drake Cameo In Season 2 & We're Obsessed
Netflix via Getty Images, Hulu
The second season of Hulu's breakout dystopian drama The Handmaid's Tale is going to deliver heartbreaking drama, jarringly timely sci-fi, and... Drake? Rumors that the rap superstar may find his way to Gilead have been popping up since Margaret Atwood, the author of the 1985 source novel, shared that she was going to talk to showrunner Bruce Miller about casting Drake. So, will Drake guest star in The Handmaid's Tale Season 2? Well, now the show's cast is weighing in with some ideas for who Drake could play on the show.
After Season 1 of The Handmaid's Tale wrapped last year, Margaret Atwood shared that she was actually on board with the idea of Drake having a part in Season 2 of the series based on her seminal novel. The casting idea came up when fellow author Junot Díaz suggested casting some of Canada's most recognizable stars in the new season, since America's neighbor to the north will become a central setting for Season 2. Atwood jumped at the idea when Drake's name was mentioned, and even had her own pitch for his role, suggesting that the rap star could live in Canada and help smuggle people out of Gilead.
Shortly after Margaret Atwood shared her passionate response to casting Drake in The Handmaid's Tale, the show's boss Bruce Miller echoed the author's sentiments, saying that he thinks the hit-making musicians would be a great fit in the streaming series.
Ahead of the Season 2 premiere next month, a few members of The Handmaid's Tale cast threw out their own character ideas for Drake if he does sign on to guest star on the series. During a Paleyfest event over the weekend, Vulture asked the cast for their Drake cameo pitches.
Samira Wiley, who plays Offred's close friend Moira who managed to escape to Canada at the end of last season, suggested that Drake could be yet another love interest for Elisabeth Moss's Offred/June. But O.T. Fagbenle, who plays Offred's pre-Gilead husband Luke, was quick to jump in and defend his show-wife's honor: "My wife has been shared enough, thank you very much," he asserted. It's true — Moss's central character was forcibly split from her husband Luke and forced into a sexual slavery under Commander Waterford, then starting a secret affair with Waterford's driver Nick. Instead, Fagbenle's pitch is for Drake to play Luke's brother who lives in Canada.
Madeline Brewer, who plays the one-eyed and mentally unstable handmaid Janine, has another idea for Drake's part. Her pitch has Drake in an authoritative role within Gilead, as either a Commander or an Eye, and she also floated the idea of his character and Janine running away together.
These pitches are all fine and good... but is this Drake cameo in The Handmaid's Tale actually going to happen or what? Drake has remained quiet about the possibility, but the cast and creative team behind the show is clearly into the idea of him taking a role if he wants one.
Maybe Drake has not talked about the series because he wants his cameo this season to be a surprise to fans... or maybe he is not interested in returning to his acting roots at this time? As Canadian teen soap opera fans know all too well, Drake (then known as Aubrey Graham) got his big break as the wheelchair-bound school shooting victim Jimmy Brooks in the early 2000s Degrassi: The Next Generation. By the end of the 2000s, Graham had launched into fame in the music world under his rap moniker Drake, and has become one of the biggest names in hip hop today.
I guess we are just going to have to wait and see if Drake appears in the new season or not. The Handmaid's Tale Season 2 premieres on April 25, 2018 on Hulu.