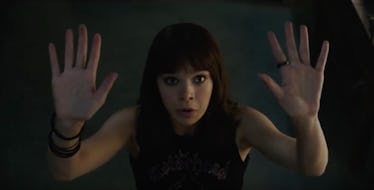 Hailee Steinfeld Is Literally Bugging In The 'Bumblebee' Trailer & You Need To See Her
Paramount/YouTube
Hailee Steinfeld is leaving her Barden Bella days behind for a new cinematic adventure. The 21-year-old singer-slash-actress is forming a bond with a famous yellow autobot in her latest film, the upcoming Transformers spinoff. The Bumblebee trailer was just released and it shows Hailee in action as she discovers her new car is much more than just a beat-up old beetle. The film acts as a prequel to the Transformers franchise, revealing Bumblebee's humble beginnings as a robot-in-disguise.
The teaser begins with the audience getting a glimpse of Hailee's character coming across a VW in a junkyard. "Let me tell you somethin', son: A driver don't pick the car... the car picks the driver. It's a mystical bond between man and machine," a voiceover plays in the background — Bobby Bolivia's (Bernie Mack) wise words from 2007's Transformers. Steinfeld happily drives around in her new whip until suddenly, it comes to life. "Who are you?" Do you speak?" she asks, stunned. A very good question considering her used automobile is now walking around the garage timidly.
"I won't hurt you," she promises, as she puts her hands on Bumblebee's metal face. Aww. They're totally BFFs now!
While the rest of the teaser is action-packed with visions of Bumblebee battling enemies and narrowly escaping danger, it definitely shows a softer side of the franchise. "Every adventure has a beginning," it reads. It's clear that Hailee's character's connection to Bumblebee is a sentimental one beyond girl and vehicle. "You've got people out there who need you," she tells him, following a shot of them hugging.
The official synopsis for Bumblebee is as follows:
On the run in the year 1987, Bumblebee finds refuge in a junkyard in a small Californian beach town. Charlie (Hailee Steinfeld), on the cusp of turning 18 and trying to find her place in the world, discovers Bumblebee, battle-scarred and broken. When Charlie revives him, she quickly learns this is no ordinary, yellow VW bug.
Hailee Steinfeld took on a pretty badass role as a Mattie Ross in the 2010 Western True Grit. Her breakout performance earned her critical acclaim and an Academy Award nod for Best Supporting Actress. But you might not think action star when you think Steinfeld, although the accomplished performer was more than ready to take on the challenge of jumping into the successful Transformers franchise.
"I liked the opportunity of creating something new and different but obviously it is under the same roof of these films that I am a fan of," Hailee told IGN of tackling the project. "I didn't have any reservations, maybe a few nerves just because of the fact the fan base is so incredibly loyal and hardcore. I wanted to make a film that they'll love. This movie is, of course, part of the Transformers legacy but it is a standalone film and it is its own story and it goes back in time to the '80s before any of the Transformers [movies] came about."
When she's not making besties with robots, Hailee isn't slowing down when it comes to her music career. The multi-talented singer and Voice advisor will be touring with Charlie Puth this summer. Is an album on the way?
"I have been teasing them [her fans] with the words 'coming soon' for a very long time," she told Access in March. "Soon is near I can say now, and I'm excited to hit the road with the new music."
It looks like Hailee fans have a Transformers spinoff, fresh songs, and a tour to look forward to this year. Bumblebee buzzes into theaters December 21, 2018.