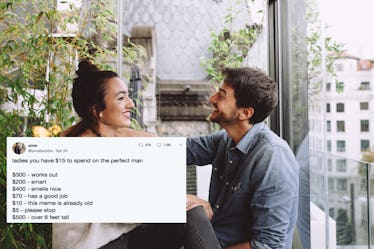 The "Build A Perfect Man" Meme Circling Twitter Right Now Is So Painfully Accurate
Ready for a fun little exercise? OK, I'll take that as a yes and just get started here. Imagine you have just $5 to build the perfect mate. Intelligence costs $500,000; wealth costs $598,903,483,094; good looks cost $9,500; a great personality costs $33,939; killer farts costs $1; their passion for Nickelback costs $4. Obviously, you'd like the other traits but, unfortunately, you only have $5 so you're stuck with the person who farts and loves terrible 2000s pop-rock. Great. The point of that exercise was for you to see how the "build a perfect man" meme that's taking Twitter by storm works.
Still unclear? Allow me to explain. Basically, people on Twitter are doing fun little exercises like the one above. They'll start it off by giving you a budget, then give exorbitant prices for the good qualities like intelligence or kindness, and minimal prices for the not-so-desirable qualities like "lives in a pineapple under the sea" and "has a snail" (aka SpongeBob).
The way I see it, there are a couple of points to these memes. First off, they're hilarious which, as far as memes go, could be enough of a reason in and of itself to make them go viral. But what makes them so hilarious is that, in their own ridiculous way, the memes are actually pretty relatable. They highlight just how rare it is to actually find a dude with all of these great qualities while also drawing attention to the fact at just how easy it is to find a freak with all of these weird outlandish qualities.
Read along, have some laughs and prepare to exclaim, "same."