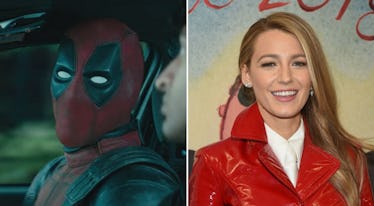 Ryan Reynolds References Blake Lively In The 'Deadpool 2' Trailer & We're Living For It
20th Century Fox, Jamie McCarthy/Getty Image
Ryan Reynolds is holding nothing back on his second outing as the irreverent, wise-cracking superhero Deadpool, and to prove it, he's even dissing his own wife. The new trailer for Deadpool 2 just dropped, and it is packed with tons of action, some new superpowered friends, and a whole lot of jokes... including a jab at one of Reynolds' wife Blake Lively's big movies. Seriously, the Blake Lively reference in the Deadpool 2 trailer is just so hilarious.
The new Deadpool 2 trailer revealed a ton of new info about the upcoming superhero sequel that is sure to excite fans, as well as giving us our first look at Josh Brolin as the villainous cyborg soldier Cable and Atlanta star Zazie Beetz as Deadpool's fellow mutant mercenary Domino. The new clip reveals that the new plot will revolve around a child (played by Hunt for the Wilderpeople star Julian Dennison), whom Cable is hunting and Deadpool will try to protect. Apparently, this kid also has superpowers, as we see him surrounded by fire while his hands glow red in a quick shot.
But it really would not be Deadpool without a heaping helping of humor. Throughout the trailer, Wade Wilson cracks a ton of jokes, such as telling his fiancée Vanessa (Morena Baccarin) that he was out destroying all the gluten in the world, and riffing with his buddy Weasel (T.J. Miller) about the expectations of movie sequels. The funniest and most meta moment, though, has to be when Deadpool makes a very bold, disparaging claim about the 2005 coming-of-age dramedy Sisterhood of the Traveling Pants.
Towards the end of the trailer, Deadpool waxes philosophical about how doing the right thing often means that he he will have to do some bad things as well. Then, he turns to his cab driver buddy Dopinder (Karan Soni) and calls Sisterhood of the Traveling Pants "pure pornography":
Doing the right thing is messy, but if you want to fight for what's right, sometimes you have to fight dirty. And that is why Sisterhood of the Traveling Pants is pure pornography.
Of course, the funniest part about that line is who is saying it — Ryan Reynolds is married to Sisterhood of the Traveling Pants star Blake Lively in real life. Sisterhood was Lively's first big break into acting, and launched her into a successful movie and TV career. She met Reynolds when they costarred on Green Lantern together in 2010 and struck up a romance, leading to them getting married in 2012. The couple has two daughters, James and Ines, and are known to poke fun at one another publicly... although this is the first time that one of them has done so within a major motion picture. I'm sure Lively is laughing along with the rest of us, though.
Along with Deadpool 2, Ryan Reynold is currently working on next year's live-action Pokemon adaptation Detective Pikachu, in which he will voice the iconic anime character Pikachu. Blake Lively is currently working on two big mystery thrillers — she will costar with Anna Kendrick in Paul Feig's A Simple Favor, due out later this year, and is undergoing a total hair transformation to play an assassin in The Rhythm Section, which is eyeing a 2019 release. The new roles sound like a badass, action-hero reinvention for Lively, who has been best known for playing more romantic drama leads before now. Hmmm, maybe this new direction in Lively's acting choices could mean she might join her husband in Deadpool 3? It would be nice to have someone on screen defending the honor of Sisterhood of the Traveling Pants!
Deadpool 2 arrives in theaters on May 18, 2018.