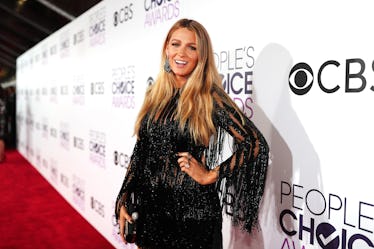 Blake Lively Has A Dramatic New Hairdo & She's Basically Unrecognizable
Christopher Polk/Getty Images Entertainment/Getty Images
It's no secret that actors go through major physical changes when it comes to taking on a specific role for a film project. They gain weight, lose weight, build muscle, wear prosthetics, and dye their hair all sorts of colors. And every time celebs undergo these changes, the results of their makeovers never fail to shock fans. The latest actress to don a new 'do is making serious waves. Blake Lively's new hair for The Rhythm Section makes her so seriously unrecognizable — and it's fantastic.
The actress posted an Instagram video boomerang on Jan. 14, presumably while on set working on her latest film The Rhythm Section. In the vid Lively can be seen in her dressing room, wearing a black robe with her new hair —which has apparently been dyed jet black and chopped into a short bob. That's right — black and short. The new look is absolutely amazing, and I am definitely digging it.
Take a look for yourself.
Would you be able to tell that this is Blake Lively in a crowd? I don't think I could.
I mean seriously, the girl is the spitting image of a young Elizabeth Taylor. All us girls that grew up watching The Sisterhood of the Traveling Pants and Gossip Girl have the image of Lively as a carefree beachy blonde ingrained in us. I guess those days are over.
Never in a million years did I think I'd see the day when Lively would don a near jet black hair color. And the cut! It's so dramatic, but I guess such is the dedication actors have to their craft, going where no normal human would ever think to go.
If the hashtag in the caption is to be believed, Lively's change is apparently for her upcoming spy thriller The Rhythm Section, which will be the first film in the adaptation of British author Mark Burnell's four-book series. Lively is playing the lead heroine Stephanie Patrick, who becomes an assassin seeking revenge after a tragic plane crash claims the lives of her family.
So given that Lively is playing an assassin, she's bound to take on many different looks and disguises for the film. But this look that she shared on social media has her fans flipping out — and for good reason.
A few comments on her Instagram questioned whether the new 'do was a wig, but this video was not the first time we've seen Lively with this new hairstyle. Back in December of last year, Lively was spotted while on location in Dublin, Ireland, where she was photographed by the paparazzi with the same black bob we see in her Instagram.
But on Jan. 14, Lively was pictured on set yet again (this time in New York City) where she was spotted wearing an 1940's styled auburn hairdo. Now this one we know for a fact is a wig, as she was photographed taking it off and adjusting it while working on the movie. One of those pictures showed that underneath the wig was the dramatic short Kris Jenner-esque black bob that we saw on her Instagram, making me think that the dye job is absolutely for real.
Ah, but yet another curveball was thrown at me in this case, when I looked through Lively's most recent posts. The actress posted a "mom's night out" picture to Instagram on Jan. 12 with her sporting her signature long blonde locks.
While the picture could have been an oldie but goodie post, it doesn't help me answer whether Lively took the plunge and changed her look or if it's just a very, very deceivingly good wig. Until she gives an interview, I guess we'll never know. All of these hairdo changes are definitely throwing me through a loop, but they also prove to me that there is seriously nothing Blake Lively can do wrong.
Sigh. If only I was this adventurous. This may call for an added New Year's resolution: don't be afraid to change your look, and be as confident as Blake Lively while doing it.