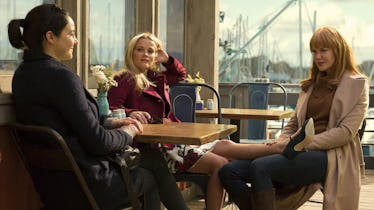 The Ladies Of 'Big Little Lies' Were The Best-Dressed Celebs At The Golden Globes
HBO
Let's just all bow down to the queens of Big Little Lies, because each and every one of these actresses is crushing life. Nicole, you are my spirit animal. Reese, you are America's sweetheart. Shailene, could you be any more fierce? Zoë, you are a damn dream. And Laura, there is nothing else to say other than I love you, I love you, I love you. With a group of ladies so talented, is it even that surprising that the show dominated the Golden Globes nominations? Not surprising in the slightest. And let me tell you: The Big Little Lies cast at the 2018 Golden Globes was fierce. And when I say fierce, I am shouting it from the damn rooftops, because man, could this cast be any more of a dream?
Short answer: HELL. NO. This cast is perfection and we are all just lucky to witness them looking absolutely flawless.
In case you're late to the party, Big Little Lies is an HBO miniseries that follows the lives of moms living in well-to-do Monterey, California, and the dark secrets that they harbor under the surface of their seemingly perfect life. With an all-star cast and stellar cinematography, their six Golden Globe nominations are well-deserved. Although some of the nominations have the stars up against each other (meaning it's impossible for them to win each of the six nominations), they still have an excellent chance of winning big. Nicole Kidman and Reese Witherspoon are both nominated for Best Actress, while Laura Dern and Shailene Woodley are both up for Best Supporting Actress. In the Best Supporting Actor category we have Alexander Skarsgård (who we loved to hate in the series), and the show itself is nominated for Best Limited Series.
All of these awards are making us do a happy dance.
Get it, girl.
And I'm sorry, but have you SEEN this crew at the Golden Globes?
How did we get so lucky to see these gorgeous people looking so gorgeously gorgeous? (If I could fit "gorgeous" in there one more time, I seriously would have.)
And it looks like the television gods are looking down at us and smiling, because HBO announced that Big Little Lies is returning for a second season, so get ready for more Monterey-style drama. In a statement given by our fave lady Reese Witherspoon, she talked about how she's "thrilled" to be returning to the show with her "talented team." She said,
I'm thrilled to be bringing back this talented team of artists ... It gives us the opportunity to delve deeper into the lives of these intriguing and intricate Monterey families and bring more of their stories back to the audience who embraced and championed them. I'm beyond excited to be working with talented and acclaimed director Andrea Arnold who will be at the helm. Andrea's unique storytelling style will be a welcome addition to the filmmaking team.
Fans of the show totally lost it, taking to Twitter to show just how excited they are for the return of this show (and this cast!) on the small screen:
Others felt that, while they didn't exactly see the need for a second season, they'd still be watching it because DUH! Have you seen the cast and the plot and the soundtrack?
And some thought that we'd be blessed with the second season like, much sooner than when it will actually air, in the spring of 2018:
Feel you there, friend.
So let's all give a round of applause to the entire cast of Big Little Lies, looking as lovely at the Golden Globes as they basically do every day. They keep us wanting more BLL.
You and everyone else, Reese.