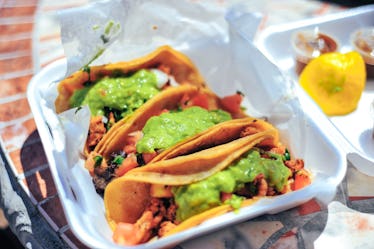 The 9 Best Taco Trucks In The U.S. Will Feed Your Wanderlust & Soul
Let's taco 'bout it. You'd probably eat tacos for every meal if you could. Seriously, you just can't get enough of this delicious foodie staple. Tacos are simple, but there's something about the filling stuffed perfectly into fresh tortillas (and topped with guac, cheese, and sour cream) that we can't get enough of. They've even evolved into breakfast tacos and vegan tacos. It's impossible to only eat one taco, but who's counting? I think we can all agree that food trucks are the best, whether you decide to grab a taco or four on-the-go. These tacos trucks in the U.S. will feed your wanderlust and soul.
Let's be honest: You'd never miss a #TacoTuesday. Whether you're a fan of fish, chicken, or veggie tacos, you must visit a taco truck at least once in your life. Food trucks offer a great alternative to the standard sit-down restaurant. It might seem weird to order your food from a truck, but that's where the charm lies. The experience feels more authentic and unique, as if you're ordering directly from someone's kitchen. You'll be enjoying the nice weather as you savor your street tacos in no time. These days, the U.S. is home to a variety of taco trucks that will leave you wanting more.