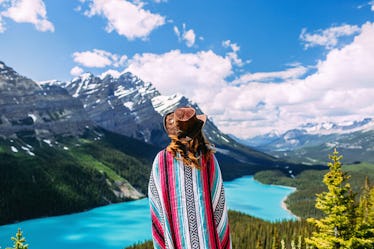 These Hiking Adventures For Singles Will Have You Catching Feels With The Views
Life is short, so wander where the Wi-Fi is weak. Summer is officially here, so that means it's time to cross those adventures off of your travel bucket list. If hiking isn't already on your to-do list, then it's not too late to change your mind. Hiking is one of the best ways to get out of your head and explore the natural beauty the world has to offer. It has a way of making you and all of your problems feel so small. Nature is the perfect setting to enjoy solitude in your 20s, so these hiking adventures for singles will teach you to enjoy the journey.
I'm not going to lie: Hiking isn't easy. In fact, it might be one of the most physically challenging things you could put your body through. Fortunately, the positives of hiking far outweigh the negatives. Make sure you're prepared with the proper hiking shoes and equipment, and you're set to catch feels for the views.
Embrace this perfect opportunity to appreciate the great outdoors. Treadmills quickly become boring, so hiking is a really fun way to switch things up. You'll fall in love with the thrill once you reach the top of your mountain. Hiking makes you feel alive, and isn't that what your 20s is all about?