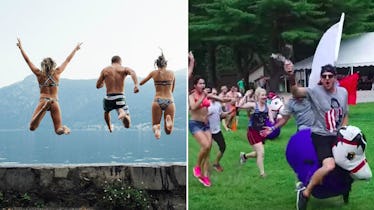 This Adult Summer Camp Has An Open Bar, Silent Disco, & Zip Lining, So Sign Up ASAP
Let's be honest, being an adult can be the ultimate struggle at times. Once you enter the real world, your planner is jam-packed and it becomes difficult to fit some fun into your daily routine. We get so caught up in work demands and societal expectations, so it can be tempting to want to get away from it all. It's important to find time for relaxation and fun, especially this time of year. If you feel like you need an escape and you want to relive the days of your childhood, then check out these adult summer camps.
Remember those glorious summer days of your childhood? You'd spend time outside with all of your friends. You'd go swimming, bike riding, or camping. Having fun was effortless, but once you enter the adult world, things aren't so easy. Life is busier and you've got so many things cluttering your mind. If you need a reset, then you should consider attending an adult summer camp with your friends. basically, you'll get to enjoy your favorite aspects of being a grown-up while embracing the small pleasures of being a kid again. These weekend getaways will take you back to the basics to help you disconnect from the distractions and reconnect with the things that matter most.