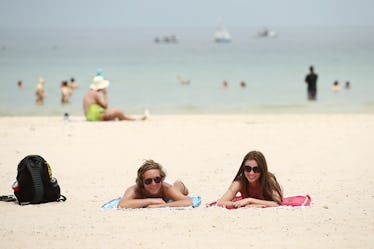 These Are The Best Sunscreens To Use On Your Face All Year Long — Not Just In The Summer
Morne de Klerk/Getty Images News/Getty Images
Even though summer is winding down at an alarming rate, that doesn't mean you can just ditch your sunscreen! This is one product that is absolutely essential to use year-round, whether or not the sun is actually beating down on your face or not. While we all know by now that we should try our best to protect all of our skin, not everyone's aware that you may need to use different products for different parts of your body. That said, sunscreens for your face are just as important as the defensive lotions you put everywhere else.
"Our faces tend to need more oil-free [product]," Dr. Jeanine Downie of Image Dermatology tells Elite Daily. "We don't need something that's shiny and oil-based, that's going to make our makeup slip off." With that in mind, Dr. Downie recommends using a number of products specifically for the face, but warns that, unless the product has an SPF of at least 30, it "doesn't count." The expert is a fan of drugstore staple brands, like L'Oréal's and La Roche-Posay's line of sunscreens for the face, but she also swears by SkinMedica's Total Defense + Repair Broad Spectrum Sunscreen SPF 34, because it protects skin not only from UVA and UVB rays, but it's also the only anti-infrared product on the market. "It rubs right into my brown skin," she says. "It's oil-free; it's very protective."
But if you're looking for something a tad more affordable, Dr. Downie also reccomends Neutrogena's Ultra Sheer® Dry-Touch Sunscreen Broad Spectrum SPF 55.
If you deal with skin conditions like acne, rosacea, or eczema and have specialized skincare needs, there are products available for you as well that you can easily purchase without having to break the bank. For acne, dermatologist Dr. Joshua Zeicher recommends using Clear Face Break-Out Free Liquid Lotion Sunscreen from Neutrogena. "This non-comedogenic formulation should not break you out," he says. As for rosacea, Dr. Zeicher says Aveeno's Ultra-Calming Daily Moisturizer with Broad Spectrum SPF 30 should do the trick. And finally, people with eczema on their face can try La Roche-Posay's Toleriane Double Repair Face Moisturizer with Broad Spectrum SPF 30.
And for all the sensitive skin owners out there, Dr. Downie also suggests using any one of Aveeno's hypoallergenic sunscreens if you find traditional formulas upset the skin on your face.
As for the initial application (and re-applying), Dr. Downie advises putting on sunscreen even if you're inside, and says to re-apply the product every two hours if you're in the tri-state area. As you move closer to the equator, you should reapply every hour. She also warns that each part of your face needs to be covered: "[People are] missing their ears, their upper forehead line by their hairline, and they're not putting it under the eyes and the hollow area where the eye connects with the nose."
Dr. Zeichner adds that sunscreen should also be re-applied immediately after heavy sweating or swimming. "You should use about a quarter sized dollop for the entire face and make sure to rub it into the hairline," he recommends. Dr. Zeichner also advises to cover parts in the hair with sunscreen as well, along with the lips, neck, and chest.
While the conversation around sun protection is growing, still, according to Dr. Downie, about five million cases of skin cancer in the U.S. were reported in 2017, and that number is expected to rise again this year. Needless to say, you definitely don't want a single inch of skin to be exposed to any harmful rays the next time you're in the sun. So grab lather up, and don't neglect your face.