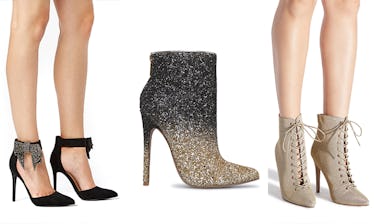 ShoeDazzle's Holiday Collection Is Just As Pretty As It Is Affordable, So Get Ready To Strut
Courtesy of ShoeDazzle
The holidays are just weeks away, and while everyone is hanging twinkly lights and sipping on hot cocoa, I'm over here trying to save every penny for Christmas shopping. I love spoiling my family and friends with really good gifts, but honestly, I like to buy myself cute things, too. And between all the dinners and get-togethers leading up to New Year's — all of which are posted on Instagram — I need to look my best, even on my diminishing budget. Luckily for me, I just got a peek at all the best shoes for holiday parties from ShoeDazzle, and they're so good!
What's even better, you won't find a single shoe that will cost you over $90. Finally, you can shop for shoes that'll make you look your best all season long and affordable enough to gift everyone on your list without having to stress about being completely broke for the rest of the year. Whether you're into a sparkly heel like me, you prefer a fuzzy boot fit for a snow bunny, or you reach for something in between, there's something in here for everyone. Read on for the cutest shoes available on ShoeDazzle this November, just in time for those holiday party invites to start rolling in.
Heels
Come on, you've gotta have a pair (or two or three) of eye-catching stilettos to wear with all your holiday dresses this season, don't you? You're welcome in advance.
Keyla Rhinestone Embellished Pump in Black ($63; shoedazzle.com)
Esperanza Glam Pump in Black ($63; shoedazzle.com)
Rochella Classic Stiletto Pump in Black/Multi ($60; shoedazzle.com)
Booties
Booties (aka heeled ankle boots) are the perfect winter accessory. They look chic with dresses and pants, and they still keep your feet warm when it's really cold outside.
Cordelia Lace Up Bootie in Gold ($65; shoedazzle.com)
Verna Stiletto Ankle Bootie in Gold Ombre ($60; shoedazzle.com)
Angelique Sock Bootie in Black ($60; shoedazzle.com)
Angelique Sock Bootie in Olive ($60; shoedazzle.com)
Mackie Bootie in Navy ($60; shoedazzle.com)
Tall Boots
Whether you prefer a knee-high boot or one that goes all the way up to your thigh, every fashion girl needs a tall boot in her wardrobe.
Rhonda Fringe Stiletto Boot ($95; shoedazzle.com)
Clea Slouchy Stiletto Boot in Natural Snake ($84; shoedazzle.com)
Portia Over-The-Knee Boot in Black ($75; shoedazzle.com)
Flat Boots
Because not all holiday parties are glitzy, dressy affairs, here are the more casual boots that keep you warm and look super cute. Oh, and did I mention they're comfy AF?
Lashawnda Low Platform Bootie in Cream ($65; shoedazzle.com)
Lashawnda Low Platform Bootie in Black ($65; shoedazzle.com)
Louna Cold Weather Boot in Black/Nude ($63; shoedazzle.com)
Whether you've added the highest, shiniest pumps or the comfy, furry lace-up flat boots to your virtual shopping cart, I'm positive you'll be the belle of all the holiday balls this season. Plus, everyone will love you because you still have some extra cash to come bearing gifts for all. You're like Santa Claus, but much more on-trend.