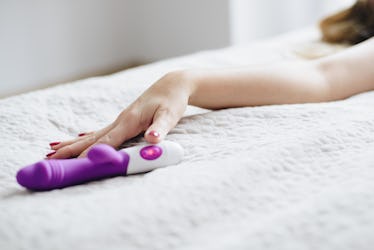 The Best Sex Toys For Your Vagina, Because You Deserve A New Sidekick
Picking out sex toys can initially feel pretty intimidating because there are literally so many different sizes, shapes, settings, and colors. Great news: There are a ton of fun kinds to try! When it comes to picking the best sex toys for your vagina, doing the research and knowing what you like are the keys to finding a trusty new sidekick for the bottom drawer of your bedside table.
If you're nervous about buying a new, or potentially your first, sex toy, keep in mind that masturbation is a super natural part of exploring your sexuality. There can be a lot of secrecy and guilt surrounding masturbation (especially for people with vaginas). According to a 2018 study conducted by the National Survey of Sexual Health & Behavior, men between the ages of 18 and 19 are 21% more likely to masturbate alone than women.
"The foundation of sexual wellness is the ability to embrace your own pleasure — there are two elements to it," Courtney Cleman, sex and relationship coach and co-founder of the V Club, tells Elite Daily. "Using masturbation to learn how your body works and being able to feel sexually fulfilled with or without a partner."
TBH, finding the right toy can be a gateway to a lot of solo fun. If you're interested in a new battery-powered, or rechargeable BFF, check out the following options that would be a great *fit* (pun intended).