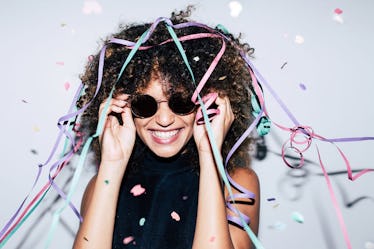 The Best Places To Celebrate New Year's Eve Might Just Convince You To Take A Road Trip
While I love the idea of starting a clean slate in the new year, I'm one of those people who doesn't do a lot of New Year's Eve party-planning in advance. Once I'm out enjoying a citywide celebration or just throwing glitter around at home with a few close friends, I'm so glad to join in the festivities. This year, though, I'm determined to do things right, so join me in checking out some of the best places to celebrate New Year's Eve in the U.S., in case you need help coming up with plans for Dec. 31. Spontaneous road trip, anyone?
To find out what the best U.S. destinations are for celebrating New Year's Eve, WalletHub compared 100 of the biggest cities in the country, taking into consideration a number of different factors, like the average cost of a glass of wine and the cost of a party ticket. Then, the personal finance website developed a chart that gives each city a score in three categories — "entertainment and food," "costs," and "safety and accessibility."
New York City tops WalletHub's list with the highest "entertainment and food" ranking, which probably comes as no surprise. But other high rankers like Atlanta, with a "safety and accessibility" score of 93, or Denver, ranking only 11th in the "entertainment and food" category, are pretty interesting. Here's how the rest of the country ranked to help inspire some of your New Year's Eve plans.