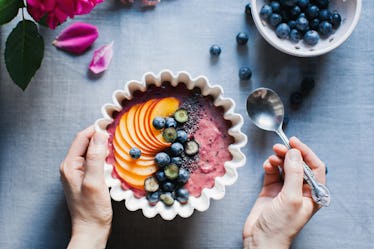 This Smoothie Bowl Shop Stole The Show At Coachella & It'll Up Your Insta Game
Fro-yo had its moment, but now it's all about the smoothie bowl. A quick scroll down your Instagram feed is bound to leave your mouth watering, thanks to the sight of this refreshing snack. Smoothie bowls are essentially a thick frozen fruit blend packed with nutrients, grains, and superfoods. They're extremely healthy and refreshing. Once you try a smoothie bowl, you're forever hooked. It doesn't hurt that smoothie bowls happen to be picture-perfect for the 'Gram, too. All you need is the perfect lighting, and you're set to have your next Instagram picture. Here are the best places for smoothie bowls to up your Insta game.
We all know that Instagram has its trends, and we're here for them. At one point, you couldn't scroll down your feed without seeing millennial pink treats and pastel macarons. I can't lie, this was my first purchase when I finally made it to Paris, and I support the fad. Currently, smoothie bowls are having their moment in the spotlight and we're all about it. Who can say no to a healthy snack that's just as pretty as it tastes? Do yourself a favor and add these six smoothie bowl places to your bucket list.