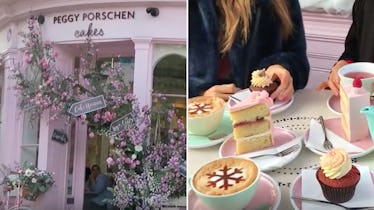 This Millennial Pink Cafe Has The Most Gorgeous Cappuccinos & Will Up Your Insta Aesthetic
A cup of coffee makes for the perfect start to your day. Seriously, how else would we get through commuting and early morning meetings? Give us a charming cafe to sit in while we sip on that coffee, and we're golden. Cafes around the world are havens for coffee lovers to unite over caffeine, books, art, assignments, writing, or simply relaxation. They're perfect for meeting up with friends or spending quiet time away from the hustle and bustle. So, it's no surprise that cafes are stepping up their aesthetic to provide unforgettable experiences to customers. The most Instagrammable cafes around the world will make you want to book a flight ASAP.
Our surroundings can make a major difference in our mood and productivity. So, when it comes to drinking coffee, why waste any of your time chilling in a bland cafe? Aside from beautifully designed spaces making our Instagram feed look spectacular, they also make us feel good. When we're traveling, it's also necessary to sit back and take everything in. A cafe is the perfect place to people watch, enjoy a city's coffee culture, and reflect on your new experiences. If you land in any of these countries, you're seriously going to want to scope out these IG-worthy cafes.