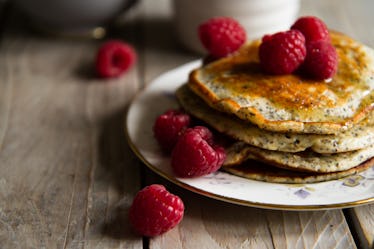 Midnight Brunch Is A Thing & Here Are The Most Delicious Spots In The U.S.
I think we can all agree brunch is the most important meal of the day. The breakfast and lunch combo is seen as a staple meal for millennials throughout the United States. The question isn't if you should do brunch this upcoming weekend with your girlfriends, but rather where and when it's taking place. Will you order eggs Benedict or chicken and waffles? Decisions, decisions. Of course, toasting mimosas is a given if you're 21 and up. And if your crew is feeling like embracing the brunch vibes Friday or Saturday night after you hit up your favorite bar scene, I've rounded up the best midnight brunch places to consider.
I'm a firm believer that brunch should be available around the clock, don't you agree? I'm down to chill in cute restaurants and fill up on delicious breakfast foods any time of the day. Thankfully, there is no shortage of restaurants offering the ultimate brunch experience. Some places bring in DJs to keep the good vibes flowing, and other places even have themes. When it comes to brunch, "go big or go home" is clearly the motto, and I am more than here for it. Many girls prefer to show up dolled up in their favorite outfit, because you can't do brunch without snapping some cute pics for the 'Gram. If you don't Instagram or Snapchat your your meal, did you even brunch? Be sure to bring your best brunch captions along, and you're set for a delicious adventure.