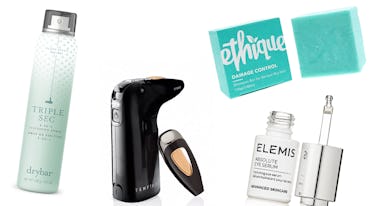 The Best July 4 Beauty Sales To Shop For New Makeup, Skincare, & Haircare
Drybar; TEMPTU; Ethique; Elemis
I know I just bought about a hundred rainbow palettes in honor of Pride Month, but you best believe I'll still be shopping all the Fourth of July beauty sales as soon as they begin. I just can't help myself! I'm a sucker for skincare and makeup all year round, so when the goods go on sale, I can't resist a splurge or two. Luckily, some major beauty brands are doing it big this year, and everyone from Drybar to Benefit is serving up an irresistable sale. Read on for all the deets on which deals are worth taking advantage of, and what products are worth your Fourth of July coin.
Elemis
Elemis is one of my favorite skincare brands, and it's having a pretty long sale to celebrate the Fourth — however, the sale itself ends on the Fourth, so you'll want to start shopping ASAP. From June 24 through July 4, shoppers on the Elemis website can get 20% off their orders, plus a bomb gift with purchase valued at $119, all for spending $100. To access the deal, simply enter code "FOURTH19" at checkout, but when shopping, keep in mind that products in the brand's Ultra Smart Pro-Collagen Range as well as the Pro-Collagen Insta-Smooth Primer won't count towards your $100 spending total. The free gift will include a full-size Absolute Eye Serum ($50, elemis.com), as well as travel-size versions of the Pro-Collagen Marine Cream and the Frangipani Monoi Body Oil, all packaged in a cute navy bag. Discounts and freebies? Great deal alert.
Cover FX
You guys. You guys. My favorite powder blush in all of beauty is included in Cover FX's Fourth of July sale. I'm freaking out! From July 3 through July 8, shoppers to the Cover FX site can get 20% off of the brand's best-selling products using the code "FIREWORKS" at checkout. I beg of you, do not miss this oppotunity to snag the Monochromatic Blush Duo in "Warm Honey" ($38, coverfx.com). Promise you'll never love another after taking this baby for a whirl.
Benefit
I recently rediscovered my love for all things Benefit, so I'm more than excited to hear about its current sale. Right now through July 6, shoppers on the Benefit site can snag three mini bronzer, highlighter, and brow products with any purchase totaling $70 or more, using the code "SOLSTICE" at checkout. I've always loved Benefit's concealers, so I'll be buying the Boi-ing Brightening Full Coverage Color-Correcting Concealer ($22, benefit.com) to help myself reach that $70 total.
Dr. Hauschka
Fans of organic and natural beauty need to know about Dr. Hauschka, and if you're not familiar, you can use the brand's Fourth of July sale to get well-aquainted with the line. Score! From July 1 through July 3, shoppers to its online site will be able to shop the entire complexion category for 40% off. Personally, I'm dying to try the Translucent Bronzing Tint ($45, dr.hauschka.com), which can be mixed with the moisturizer of your choice for a bronzy boost that gives your skin a nice, summertime glow.
Drybar
While I'm not much of a blowout gal, I do use a lot of Drybar's products, so when I heard it'd be having an online sale, I was beyond thrilled. I'm rarely at the actual salons to browse the styling line, so this is a great opportunity to scoop up some faves! From June 28 through July 5, shoppers on the Drybar site have access to 20% off products, tools, and kits, excluding online bundles and gift cards. And FYI, if you are a regular Drybar blowout booker, the sale will apply to products purchased in-salon, too. My friends all rave about the Triple Sec 3-In-1 Finishing Spray ($26, drybar.com), so it's definitely at the top of my Must Try List.
Tatcha
During the Fourth, I'm typically on the hunt for a good sale, but a coin-saving set will do the trick, and right now, Tatcha has tons. The luxury beauty brand just launched a bevy of limited-edition kits as part of their Everyday Zen Summer Travel Set Collection, and the savings are downright irresistable. If you love their well-known skincare products (Um, Meghan Markle is a fan, so that says a lot), consider a kit that offers full size and travel-size versions of your faves for less, like the Anytime Afterglow Set ($52, tatcha.com), an $80 value that contains one full size Dewy Skin Mist, a Luminous Dewy Skin Mask, and a travel-size Dewy Skin Cream, all in a cute makeup bag that's TSA-approved.
Birchbox
Wait, you never online shop on the Birchbox site? Well, that's about to change! It's not only the place to sign up for monthly boxes, but also a great go-to to stock up on all your beauty faves. From July 1 through July 5, shoppers can snag 15% off of orders of $35 or more using the code "AMERICA15" at checkout. I'm talking full--size products, boxes and kits, and grooming and beauty subscriptions. Yes, ma'am! My personal faves are the retailer's wide array of hair styling products — what can I say, I'm a sucker for the R+Co High Dive Moisture + Shine Crème ($29, birchbox.com).
Skylar
Skylar is one of my go-to perfume brands, and after falling in love with their candles this spring, I'm officially head over heels for the company as a whole. From July 4 to July 7, shoppers to the Skylar site can snag 20% off sitewide, excluding gift cards and Skylar Scent Club memberships, using the code "FOURTH." Do yourself a favor and get a yummy-smelling home fragrance; a whiff of the Sprinkles Candle ($38, skylar.com) is quite literally the equivalent of eating a fresh-baked cupcake. So good.
TEMPTU
If you've always been intrigued by airbrush makeup, TEMPTU's Fourth of July sale will have you downright thrilled — it's the brand's biggest sale ever, so get ready. From June 25 through July 4, it'll be offering online shoppers 25% off everything sitewide. If you're an airbrush newbie, start with the basics, aka the TEMPTU Air Perfect Canvas Starter Kit ($195, temptu.com), a $233 value that includes your very own cordless airbrush tool and your shade of Perfect Canvas Airpod Foundation. Seriously, this is so cool.
Makeup Geek
OG YouTube beauty guru fans are already familiar with Makeup Geek, so if you're not, it's time to see what all the hype is about. The brand will be offering a whopping 60% off of select items in a final clearance sale beginning on July 4, which will continue on until inventory is sold out. I'll definitely be using this as an oppotunity to snag the Kathleen Lights Highlighter Palette ($15, makeupgeek.com), a trio of shimmery hues created with YouTuber Kathleen Fuentes.
Ethique
Let's be honest, shopping on Amazon is always ideal, so a sale is just icing on the cake, right? That's why I'm so thrilled that Ethique, a plastic-free beauty brand devoted to creating zero waste, will be offering Amazon shoppers up to 30% off its beauty bars throughout the Fourth of July weekend. Never tried bar shampoos and conditioners? This seems like a good time to give them a go! My fave is the Damage Control Solid Shampoo Bar ($16, amazon.com), made with lightweight but nourishing ingredients such as coconut oil, coconut cream, cocoa butter, and peppermint.
SEEN Haircare
Developed by a dermatologist with skin in mind, SEEN is a must for anyone who cares as much about their strands as they do the rest of their beauty routine. From July 3 through July 7, shoppers to the SEEN site can snag 20% off of all the brand's incedible non-comedogenic products. My personal fave is the Blow-Out Creme ($24, helloseen.com).
Zitsticka
Safe to say you're familiar with Zitsticka, the Internet-breaking acne patches you can stick on skin before you sleep to treat breakouts overnight. From July 2 through July 8, shoppers can get 20% off of the Killa Kit ($30, zitsticka.com) using code "ZITTY4." The set contains eight spot-spearing swabs and eight of the famous Killa patches, so it's a great kit to grab if you see yourself breaking out after your Fourth of July shenanigans.
Eterno Skincare
Still want more skincare? A girl after my own heart. You're in luck, because Eterno Skincare will be offering 30% off its online shop from July 1 through July 7. Yes, please! That means you can snag the brand's Eterno LED Device ($300 eternoskincare.com) at a major discount — it claims to be a real game-changer for fine lines, scarring, and sun spots, so if you're on a mission to rid your complexion of any of the above, set an alarm for the second this sale starts.
bareMinerals
If you're a mineral makeup stan, then you'll be thrilled to know that bareMinerals is participating in the summertime sale madness, too. From now through July 4, shoppers on its website will get free shipping on all bronzers and highlighters, so amping up your glow has never been easier. Plus, when you spend $75, you'll receive $15 off your order, as well as $20 off orders over $100. It feels only appropriate that I snag the Endless Summer Powder Bronzer ($29, bareminerals.com), given that I want summer (and summer sales!) to never end.
Repêchage
Looking to shop sustainably this Fourth of July? Repêchage is a sustainably-sourced skincare brand that utilizes seaweed for its skin-loving benefits, and from July 5 though July 8, shoppers to the brand's site can snag free shipping and 20% off their orders. Plus, subscribers to their newsletter can be alerted to even more flash deals that weekend. Sign me up, honey! I can't wait to try their C-Serum Seaweed Filtrate Face Serum ($59, repechage.com), which makes use of laminaria digitata seaweed, better known as kelp.
QVC
QVC's massive Christmas in July sale falls runs through July 30, so I'm counting it as part of the Fourth of July deals! There are tons of great deals to be found on the sale landing page from major brands like GlamGlow, Sigma, and Philosophy. I plan on taking advantage of some of the boxed sets, particularly Glamglow Hydration Dream Team Set ($34, originally $50, qvc.com), which includes travel-size versions of the brand's best moisturizing picks, including WaterBurst Hydrated Glow Moisturizer, GalactiCleanse Hydrating Jelly Bomb Cleanser, and my fave, ThirstyMud Hydrating Treatme
VOLOOM
Haircare brand VOLOOM has everything from styling products to unique hot tools, so a major discount on their site is a VBD (Very Big Deal). From July 4 to July 7, shoppers to the brand's site as well as their Amazon page can receive 20% off of all orders using code "AMERICA." Their VOLOOM Classic ($140, voloom.com) is neither a flat iron nor a curling wand, but a hair volumizing tool that adds lift like no other, thanks to its unique checkerboard-style plates.