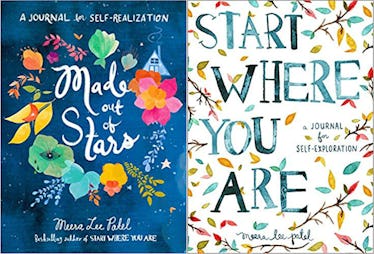 The Best Journals For Procrastinators Who Want To Get Things Done & Have No Clue How
Amazon
I could lie to you and say that my nighttime routine includes a luxurious soak in the bath, a solid hour of intellectually stimulating reading, and plenty of time to meditate on my day. Honestly, though, more often than not, there's more time spent browsing YouTube and snacking on popcorn than checking off things on my to-do list. In other words, I am a huge procrastinator. If you can relate, I rounded up the best journals for procrastinators help take some of the stress out of reaching your goals, now that the new year has officially arrived.
For me, Jan. 1 means a renewed determination to actually fill a new journal. But that passion usually peters after about two weeks, when I start pushing off my journaling time later and later in the day, and then eventually just give it up altogether. If you're also someone who tends to procrastinate, but you really want to benefit from some of the amazing mental health benefits of journaling, starting off with one of these guided journals might be a great way to get into the routine.
Choose one filled with beautiful art to inspire your creativity, or even one that's packed with plenty of sassy quotes to keep you laughing. Who knows — you might find yourself looking forward to your journaling time every day.