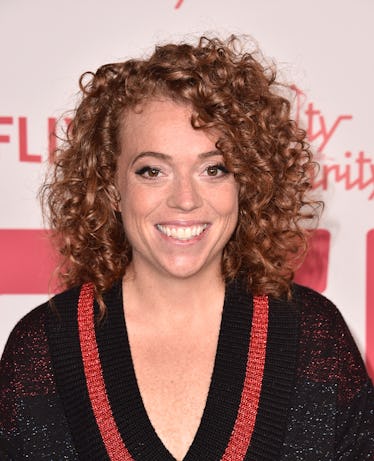 Michelle Wolf's White House Correspondents' Speech Had Some Seriously Hilarious Jokes
Alberto E. Rodriguez/Getty Images Entertainment/Getty Images
While President Donald Trump attended a rally in Michigan on Saturday, April 28, celebrities, politicians, and media alike converged in Washington D.C. for the annual White House Correspondents' Dinner (WHCD). There was no shortage of moments worth recapping from the side-splitting affair. But here's a sampling of some of the best jokes from Michelle Wolf's White House Correspondents' speech.
Trump didn't attend the "nerd prom," but the jokes about the president continued nevertheless. Chosen to lead the evening was Wolf, a comedy writer who has written and made appearances on Late Night With Seth Myers and The Daily Show with Trevor Noah. According to The Hollywood Reporter, she was a track and field competitor while at William & Mary for college. Prior to comedy, she was working on Wall Street. It was in an improv class that she took during her time in the finance world that she discovered her love for joke-telling, and devoted herself to the career. Now, she has a big year between this dinner and her upcoming weekly Netflix show, The Break with Michelle Wolf, which premieres on May 27.
Wolf's "truth-to-power style" and "self-made, feminist edge make her the right voice now," said White House Correspondents' Association president Margaret Talev.
And she definitely brought het A-game out on Saturday night and served up some seriously funny jokes.
She took a jab at Congress when she said, "I'm here to make jokes, I'm not here to get anything accomplished. So members of Congress should feel right at home."
Wolf also addressed Trump's alleged affair with adult film star Stormy Daniels and said, "It's 2018 and I'm a woman, so you can't shut me up... unless you have Michel Cohen wire me $130,000. Michael, you can find me on Venmo under my porn star name, 'Reince Priebus.'" (Trump has denied this affair.)
She even made a Hillary Clinton joke — "It is kind of crazy that the Trump campaign was in touch with Russia when the Hillary campaign wasn't even in touch with Michigan."
But the correspondents' dinner is about calling out the president, and Wolf piled on the Trump jokes tonight.
I mean, she does have a lot of material to work with. "Tonight, I'm going to try to make fun of the president in a new way, in a way that I really think will get him. Mr. President, I don't think you're really rich. You might be rich in Ohio, but in New York you're doing fine," Wolf joked.
"He wants to give teachers guns, and I support that, because then they can sell them for things they need, like supplies," she added.
Wolf also took aim at the other members of Trump's cabinet, like Vice President Mike Pence.
"Mike Pence is what happens when Anderson Cooper isn't gay. Mike Pence is the kind of guy who brushes his teeth and then drinks orange juice and thinks, 'Mmmm,'" she joked.
And she didn't forget about the press secretary either. "I love you as Aunt Lydia on The Handmaid's Tale," she said on Sarah Huckabee Sanders, who did not look amused when she heard the joke. And neither did Kellyanne Conway, when Wolf said that she has the perfect last name for what she does — "Con, Way."
The correspondents' dinner is, after all, celebrating the White House press corps, so Wolf called them out too.
"You guys love breaking news and you did it, you broke it," she said about CNN.
She also spoke to the media in general and said, "You helped create this monster and now you're profiting off of him, and if you're profiting off of Trump, you should at least give him some money, because he doesn't have any."
And Wold capped off her hilarious speech with this perfect zinger: "Like an immigrant who was brought here by his parents and didn't do anything wrong, I gotta get the f*ck out of here!"
But the comic's harsh humor targeting the president wasn't unexpected.
Wolf's history of comments about Trump runs deep, in fact. Leading up to the event, she'd already waged war with Trump multiple times. She made a subtle dig at Trump on Twitter back in February, referencing Trump's favorite term for mainstream media's negative coverage of him — "fake news" — as she confirmed her role as emcee.
And in an interview with The Hollywood Reporter leading up to the event, Wolf said she wasn't deterred by the fact that Trump himself wouldn't be in attendance. "I'm going to say the same things, whether he's there or not," she told The Hollywood Reporter. "I think it's more fun when people are there only because I like making fun of people to their face."
She also discussed the difficulty in trying to make jokes about someone as outlandish as the president. "Everything he says is already ridiculous, so you trying to be more ridiculous is hard to do," she said. "You can't joke a joke."
On Jimmy Kimmel Live!, Wolf even laid down the gauntlet, daring Trump to attend the WHCD: "I dare you, you poor little man. I'll give you five dollars if you come."
She also called Trump "the worst thing to happen to women since yeast." So yeah, her feelings about him aren't exactly a secret, and she'd made every indication that she wouldn't hold back on Saturday.
Wolf also indicated that she wasn't planning to only target the president. No subject was off-limits, apparently. She was aiming for what she called a "South Park approach," telling The Hill, "if you offend everyone, you offend no one." She added, "I also think there's so much happening, and so many people to make fun of, that it would kind of be a waste to only go after him."
In that case, Wolf apparently hit her mark, then.