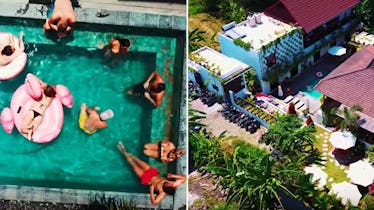 The Best Hostels In Southeast Asia For The Chic Backpacker Who's Ballin' On A Budget
Southeast Asia is a backpacker's haven. Many backpackers set off on a trail to explore countries like Thailand, Vietnam, Cambodia, and Indonesia, and return home with a ton of incredible memories. The low costs in this region allow backpackers to see the world on a budget. There's an endless amount of hostels available for backpackers, which can really help you get the biggest bang for your buck. However, you want to pick the right one for you, whether you're traveling solo or with your bestie. The best hostels in Southeast Asia are perfect for the chic AF backpacker, so get ready to check them out on Instagram.
Southeast Asia has so much to offer in terms of culture, food, history, and adventure. You can eat your way through food markets, roam the grounds of ancient temples, and swim in some of the world's most beautiful beaches. You could spend weeks or even months in numerous countries to make the most out of your experience. Honestly, the possibilities are endless. If you want to travel further for a longer period of time, then hostels are one of the best ways to stretch your dollar. You just might be surprised to discover that you enjoy hostels more than you ever expected.