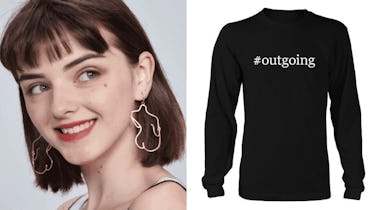 Extroverts Will Gush Over These 8 Thoughtful Gifts, So Start Shopping ASAP
Kina & Tam/Shirt Me Up
Extroverts are the life of the party and the sunshine on a cloudy day. They're loud, proud, in charge, and never one to shy away from a social gathering. You adore your extroverted pals for exactly who they are, and their energy is simply contagious whenever you're around them (which would probably be 24/7, if they had things their way). With the holidays quickly approaching, it's about time to start brainstorming the best gifts for extroverts so that you can give your favorite social butterfly a present that will make her eyes light up and her heart swell.
"Extroverts generally get their energy from being around others and interacting socially," counselor and relationship expert David Bennett told Elite Daily back in May. In other words, if you think one of your friends is a total extrovert, but you're not quite sure, your hunch is probably right. These outgoing peeps usually come alive whenever they're around people, and, alternatively, tend to get pretty drained when they're alone for too long.
Honestly, it'll probably be pretty easy to shop for the extrovert in your life because she'll likely squeal and gush over just about anything you give her. Still, here are eight gifts that are especially perfect for any extroverted loved ones in your life, that will remind them that you can't get enough of their bubbly disposition, and you wouldn't change it for the world.