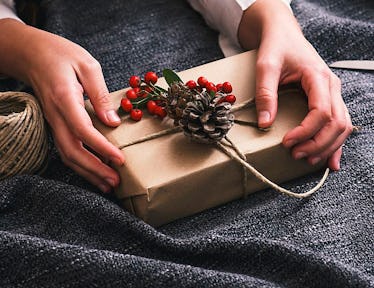 9 Little Gifts To Give An Introvert That'll Mean The Absolute World To Them
Introverts are a special breed, and they're probably some of the best friends you'll ever have. They're the boys and girls growing up who didn't snub at the bottom-of-the-barrel, grab-bag picks at your elementary school holiday party. They're the ones who always take their time to find precisely the best holiday presents to give to their closest friends. Introverts appreciate the little things in life more than most, so if you're on the hunt for the best gifts for introverts, keep in mind that she'll likely feel honored to receive any gift, no matter how big or small. The simple fact that you were thinking of her means more than the material good itself.
Holiday time can be super stressful, especially when you start drafting shopping lists for loved ones and friends. The truth is, though, gift-giving doesn't have to be so difficult, and if you're lucky enough to be friends with someone who is a bona fide introvert, even giving a little bit goes a long way. A pretty journal, a book of poetry, even a grabbing a cup of coffee would suffice. The key to an introvert's heart is offering up a tiny piece of yours just to say you love them and were thinking of them.
However, if you're anything like me, and you also get major jollies from playing Christmas elf during the holidays, I understand the insatiable need to go above and beyond when it comes to gift-giving. Even though you want to give the best of the best, keep in mind it's the little things that mean the most to your introverted BFF. If you're stumped on what to scope out for your favorite homebody, here are a few suggestions I can guarantee they'll love.