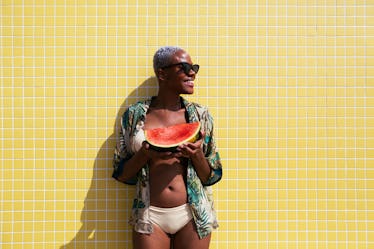 Foodies Can Eat Their Way Through Vacation At Any Of These 5 Incredible Retreats
When planning a vacation, there are a few major details that need to be addressed right from the start: Obviously locale is at the top of the list, followed by sleep accommodations, but the most important aspect of where you're going is the local eats. Listen, some people travel to see the world, but I use my flyer miles to taste it. If I'm going to Italy, for example, I want fresh penne alla vodka from a family joint. If I'm going to France, I require chocolate croissants for breakfast. My ideal vacation is one of the best food retreats the world can offer, because while some people, consider the ideal vacay to be a week of lying out in the sun, to me, it's sampling cultural cuisine night after night, and always going back for seconds.
You know the saying, "I got my mind on my money, money on my mind"? Change "money" to "meals," and that's me in a nutshell. My husband will be the first to tell you: All I think about is food. Even if I just ate, chances are I'm probably planning out my next meal, and while I love to cook, there's nothing better than experiencing high-quality restaurant food or sampling a new cuisine. To me, traveling isn't just about sight-seeing; it's about pleasing your senses — all five of them, but especially taste. So if you, like me, prefer eating out over laying out, these food retreats are sure to feed your soul and fill your belly.