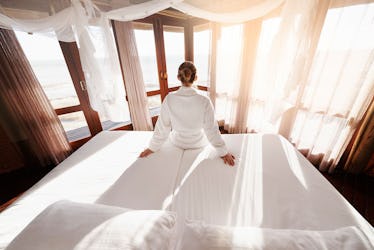 The 5 Best Retreats For People Who Love To Sleep & Crave R&R On The Daily
If someone asked me what my favorite part of vacation is, it would have to be sleeping in a hotel bed. This makes my husband laugh, mostly because, why shell out hundreds of dollars for a week-long getaway when you can just take off work and sleep in for seven days? I mean, the man's got a point, but it's all about ambiance for me. I'm not complaining about my sleep arrangements at home, BTW, because we have the comfiest bed ever, but if I were to plan out a dream vacation, I'd book one of the best sleep retreats luxury resorts have to offer. To me, R&R isn't sun and sand; it's a king-size bed and Egyptian cotton sheets — oh, and 24-hour room service, because your girl wakes up hangry AF on occasion (OK, every occasion).
Aside from the fact that, at least, in my experience, hotels almost always have high-quality sleeping arrangements, just the shift in vibe from real life to vacation life makes sleeping that much better. When I'm home, I'm never truly unwound. Between being a workaholic, my insatiable need to tidy up the apartment every chance I get, and making sure I pencil in time for family and friends, rest is often a foreign concept to me.
When I'm on a trip, even if it's just a few towns over, I can shut off my phone, focus on myself, and fall asleep with a quiet mind. Now, tell me, can you honestly say you couldn't use an entire weekend like that? If you're nodding your head in agreement, do yourself a favor and book any (or all) of the following sleep retreats to finally achieve the snooze of your dreams.