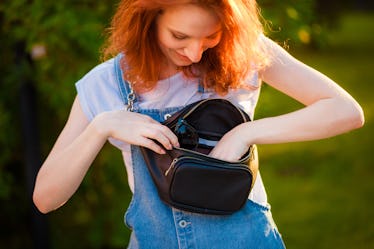 7 Insta-Worthy Fanny Packs For Disney That'll Match Your Vibes
Shutterstock
The three essentials for any Disney day are a plan, your tickets, and a cute bag to stash your stuff. If you want something that's both stylish and functional, you might want to consider some of the best fanny packs for Disney in this roundup. Unlike a backpack, you can access your cash and necessities right in front, so it'll make it easier for you to buy that churro the minute you see it. Plus, it's light and not bulky.
Fanny packs are the way to go. Though, if you're anything like me and want to be overly prepared for a Disney day, you might be worried about everything fitting inside your bag. You'd be surprised at how much can actually go inside some fanny packs today. They're basically as magical as Mary Poppins' bag. You just need to find the right fanny pack that fits your theme park vibe. You can either get a fanny pack that's super cute and will coordinate perfectly with your Mickey ears and vintage Disney tee, or something that has a lot of pockets to hold everything you need.
If you're in the market for a cute hip pack, consider getting any of the options on this list for your next Disney adventure.