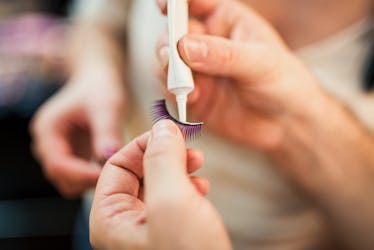 These Non-Irritating Eyelash Glues Are Game-Changing If You Have Sensitive Eyes
MilanMarkovic78 / Shutterstock
If you have sensitive eyes, getting your hands on an effective eyelash glue that won't cause irritation can be a challenge. The key is to know what to look for. When selecting the best eyelash glues for sensitive eyes, it's important to read the product's label closely, and lookout for potential ingredients that can cause eye irritation. Latex is often a problematic ingredient for those who have sensitive eyes. It's also important to steer clear of formaldehyde-based adhesives, as formaldehyde is a known carcinogen.
As with all eyelash glues, the best eyelash glues for sensitive eyes come in different formats and colors. There are two main categories of applicators: a brush-on applicator and a tube applicator. Many people prefer a brush-on applicator, since it is essentially mess-free and a breeze to use. A tube applicator, on the other hand, allows for easy distribution of the lash glue. You may prefer a tube applicator if you are using individual lashes, since you can squeeze some eyelash glue out, and dip the individual lashes directly into the glue. And while many eyelash glues dry clear, some dry dark (essentially black). There are people who prefer this, since it blends in with dark eyeliner or mascara.
Any eyelash glue can cause irritation, though latex- and formaldehyde-free glues are a great place to start. If you find that glue just doesn't feel good for you, consider using a set of magnetic falsies. As the name would suggest, magnets hold this style of lash in place… no glue required. And the end result is just as dramatic. (But if false lashes really don't agree with you, that's okay, too! Elite Daily can recommend some really great, nonirritating mascaras.)
Lash glues formulated without nasty chemicals are few and far between, but I tracked down a couple of highly-rated options, as well as a truly incredible set of magnetic falsies that stay put without irritating adhesive. Because no one should ever have to suffer for beauty.
We only recommend products we love and that we think you will, too. We may receive a portion of sales from products purchased from this article, which was written by our Commerce team.