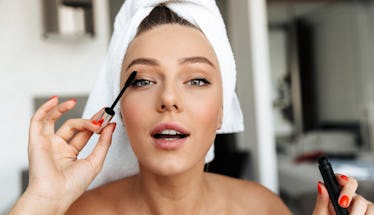 Sensitive Eyes, Don't Despair! These Picks Prove That You *Can* Wear Mascara
Drobot Dean/Fotolia
Eyes are a particularly sensitive part of the body and mascara can contribute to a number of reactions including dry, itchy, or runny eyes. Contact-wearers and allergy suffers, in particular, sometimes find that mascara can make symptoms worse. However, that doesn't mean you have to suffer bare-lashed if you don't want. The best mascaras for sensitive eyes are formulated with natural and hypoallergenic ingredients which can help curb or avoid reactions. And you don't have to just settle for natural-looking formulations if you want something more dramatic, either. There are plenty of mascaras that can get you the lashes of your dreams without things turning into a nightmare.
When shopping, look for phrases like "ophthalmologist-tested" or "hypoallergenic." There are also brands that only sell hypoallergenic formulations, like Clinique on the higher end and Almay on the drugstore end. But even the best hypoallergenic mascaras can cause irritation if you use them incorrectly. No matter which brand you pick, be sure to thoroughly and gently remove the product before bed. Old mascaras can also irritate eyes, so be sure to replace it every four months at the least. Since many sensitive eye-friendly mascaras don't have preservatives, which can be an irritant, they especially should be replaced regularly. Plus, newer formulas work better and flake less — a win-win.
Editor's Note: If you think you're having a serious reaction like swelling or a rash, you should consult your doctor before experimenting with other mascaras.