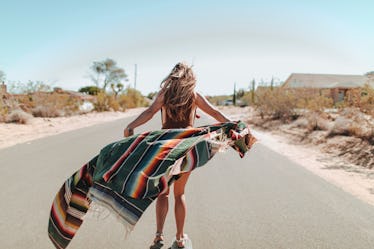 The Most Instagrammable Deserts Will Make You Feel Like You're In Another World
When you think of a fun summer vacation, a desert getaway might not come to mind at first. After all, isn't summer the time hit up the nearest beach? I'm the first to admit that I love island vibes, but I'm also down to try something new every once in awhile. While everyone is posted up on the sand, you should seriously consider venturing out to the desert. You may find yourself pleasantly surprised with an experience of a lifetime. It's not your typical vacation, but I've rounded up the best deserts to visit for Instagram lovers in their 20s.
Deserts are so vast and captivating. They have a way of making you feel humble. You're out in the middle of nowhere surrounded by sand, so suddenly your problems seem to evaporate. The sunsets are stunning and the stars are at their brightest with nothing blocking their shine. The mystery and silence of the desert can feel a bit eerie, but it's the perfect way to disconnect from your daily life.
There are many different types of deserts around the world, and they're all worth a visit. Why not give them a try? You'll leave with a heart full of memories and a phone full of Instagrammable photos.