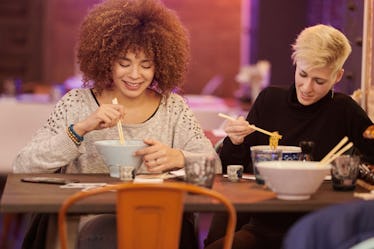 The Best Comfort Foods For Winter Will Keep You Warm, No Matter What The Weather's Like
Even though I've lived most of my life on the East Coast, I do not like the winter. And as many of us who live in the wintry parts of the U.S. have felt, the cold weather has been painfully and frigidly bonkers lately. While it's important to get a little air from time to time, there are some winter days when a gal simply has to stay inside. This means popping on a fleece robe and stocking up on the best comfort foods for winter. Trust me, winter cooking is all about the recipes that will make you feel warm from the inside out.
You also might notice that, during the wintertime, along with craving cozy meals, you feel straight-up hungrier, too. According to research published in The European Journal of Clinical Nutrition, your overall caloric intake tends to go up in the colder months. But is eating more in the winter something that we as humans are biologically inclined to do to keep warm, or are we simply in need of a little extra comfort during this time of year? That, the study authors suggested in their paper, is still up for debate.
Either way, it sure does feel good to sit down with a warm pot of stew or some hot cocoa in the thick of a cold snap. Try some of the below, expert-recommended suggestions, and enjoy the cozy, satisfied vibes that follow.