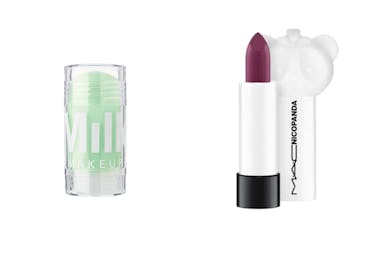 Milk Makeup & Soko Glam Are Having Major Sales But Time To Shop Them Is Running Out
Milk Makeup / MAC x Nicopanda
It's the worst when brands lure you in with promises of seriously slashed prices, only for you to discover the deals apply to all of they products you didn't want. Major booh. In order to avoid that annoying disappointment, shop only the best beauty sales this week, which I promise (cross my heart, hope to die) will leave you with a huge smile on your face. They include products that you will love by brands you're obsessed with (any Milk Makeup or MAC fans in the house?) and will save you more than pennies. If you've been waiting for the right time to drop some of your savings (or even just your recent dog sitting paycheck), this week is definitely it.
Below, TK of the best sales going on this week with a bit of information on what they each include. Make sure you go to each retailer's website and check out all of their discounted offerings before making your final decision because buyer's remorse is real.
MAC x Nicopanda
All lipstick and Lipglass offerings from the collaboration between MAC and streetwear brand Nicopanda are majorly marked down. Like, 40-percent-off major. Lipstick, which comes in cool shades like bright Pop Babe pink and deep Nico Kiss navy, will run you $11.10; Lipglass, which you can snag in a pearlescent navy called Dreamz, is 10.80. The fact that both products feature adorable lids topped with pandas, Nicopanda's logo, only sweetens the already kawaii deal.
OGX
OGX is amazing for their shampoo and conditioner sets that cater towards specific hair needs like shine or hydration. Plus, and maybe even more importantly, they smell amazing and often feature super interesting scent profiles. This week you can score two for $11 on OGX's shampoo and conditioner products via Ulta (each one usually retails for $8). That's around $5 you'll save, so if your haircare products are getting low now's the time to buy their replacements. OGX's Shea Soft & Smooth Shampoo and Conditioner, which help reduce frizz, would be on my list.
Milk Makeup
Perhaps the most exciting of the bunch, Milk Makeup's Friends and Family Sale is offering 25 percent off all orders over $35. That means fill your cart with any amount of their Matcha Toner sticks ($26), Eye Vinyl shadows ($20), and Lip & Cheek Tint ($24) and get it all for three-quarters of the original price, not code needed. As an added bonus, you'll also receive a Kush Mascara sample and pencil case for completely free if you spend $75 and up. It's important to note that the sale ends tomorrow, Wednesday, Oct. 17 at 11:59 p.m.PT, which is Thursday, Oct. 18 at 2:59 a.m. ET. Also, it excludes the following products: Flex Concealer, Highlighter Lit, Watermelon Brightening Serum, Kush Brow Gel, Kush Mascara, Blur + Set, Meet the Fam Set, The 'Rents Set, and Gel Eyeliners.
Soko Glam
Every year, Korean beauty product purveyor Soko Glam holds their Best of K-Beauty Awards, which crowns 10 products as honorees. As described on Soko Glam's website, "This coveted award is presented to curations from the past year that captured the hearts and stellar reviews from Soko Glam's community, as well as unanimous votes from our team." Right now, they're offering 15 percent off the 2018 winners with the code SGBOKB18, and if you spend $125, they'll throw in 10 complimentary sheet masks. From Benton's Tea Tree Cleansing Water (normally $17) to Klairs' Freshly Juiced Vitamin E Mask (normally $27), they're products you don't want to miss out on.
Urban Decay
Sephora's Weekly Wow Sale always includes a lineup of hit buys, but this week it includes not one, not two, but three eyeshadow palettes, all at 50 percent off. There's the Naked Palette (now $27), which features classic neutral shades; the Distortion Eyeshadow Pallete (now $24), which features five traditional shades and five transformer shades; and the Backtalk Eye and Face Palette (now $23), which is comprised of warmer pink and purplish tones.
Told you they were good.