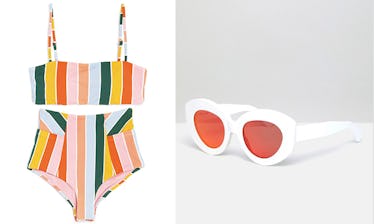 The Best Bathing Suit & Sunglass Pairings For Every One Of Your Summer Personalities
Bando/ASOS
When I go on vacation, I take on a whole new style personality depending on the place I'm visiting. When I went to Italy, every outfit I wore was a take on Sophia Loren circa 1950 — polka dots, headscarfs, ruffles, and all. When I went to Tokyo, I fell somewhere between the girl with the pink car on The Fast and the Furious: Tokyo Drift and a lost member of the Spice Girls. And now that it's summer, I'm dreaming up my next vacation and planning the best bathing suit and sunglasses to match my locale.
If you're anything like me and you like to dress the part on vacation, I already did the work for you. I searched for the cutest beach wear on the internet so you don't have to. Whether you're headed to the Americana backdrops of Connecticut or the colorful streets of Cuba, here are the best swimsuit and sunglass pairings for every trip you take this summer. And the coolest part is you'll find sunglasses starting at only $10, so you can still have enough cash to spend on your fabulous vacation. Now all that's left is deciding which poolside cocktail you'll order and which pose you'll post on the 'Gram.
When You Wanna Glam
There's nothing more glam than head-to-toe metallics, especially when it comes to beach wear. When I see a gold bathing suit, the first thing that comes to mind is a casual cruise through Saint Tropez on a yacht, with a martini in hand. But honestly, who can afford to charter their own yacht and sail through the French Riviera? Not me. However, glamour is a mindset, no matter how much money you have in your bank account.
Luckily, the All Saints Rita Metallic Swimsuit ($56, All Saints) and Women's Metallic Cat Eye Flash Color Lens Sunglasses ($11, Zero UV) pairing comes in at under $100. Add a few simple bangles, a headscarf, or a large hat, and you'll look like your lost somewhere in France, even if you're just sitting poolside in your own backyard.
When You Wanna Play
The sporty look is a huge trend this summer and it's just as cute as it is functional. This Adidas Three Stripe Swimsuit ($46, ASOS) is the perfect one-piece for a game of volleyball on Venice Beach and looks totally Instagrammable with a baseball hat and these Large Full Metal Frame Aviator Flash Mirror Lenses ($11, Zero UV).
When You're Feeling Preppy
Headed to those Americana backdrops of Connecticut I was talking about? It's only fitting you break out your most preppy prints and color palettes. You can't go wrong with a gingham bathing suit like this Tarte Collections Shelby Ruffle-Trimmed Gingham Swimsuit ($64, The Outnet) and a pair of red sunnies like these NA-KD Accessories Cat Eye Sunglasses ($24, Na-kd).
Pair your feminine gingham ruffles and red frames with a straw hat and rent a rowboat for the afternoon. Just think of the cute pics you'll have for countless #TBTs to come.
When You Want To Get Noticed
We all have that friend who's the life of the party. She wears bright colors and always pulls off the loudest outfits with ease. Some of us are that friend. If that's you, you need a rainbow striped two-piece to go with a pair of statement sunnies. And the best part is this pairing will look just as photo ready in Havana as it would floating in a lake on a blow-up flamingo.
I'm obsessed with this Color Wheel High Waist Bikini Bottom ($99, Bando) and Bandeau Bikini Top ($79, Bando) because of it's cheery color palette, fun cut, and convenient pockets. Now all you need are these House Of Holland Oversized Mirrored Cat Eye Sunglasses ($99, ASOS).
When Classical Hits The Right Note
Where do classic lovers with an affinity for vintage-inspired pieces go on vacation? Palm Springs, Hawaii, perhaps Atlantic City? No matter where you go, just make sure you travel with a hat box packed with pieces inspired by your favorite era.
It doesn't get more classic than this Novel Swim Fembot One-Piece Swimsuit ($120, Bando) and these Chimi Pink Cat Eye Sunglasses ($98, Intermix), does it? Nope, I don't think it does.