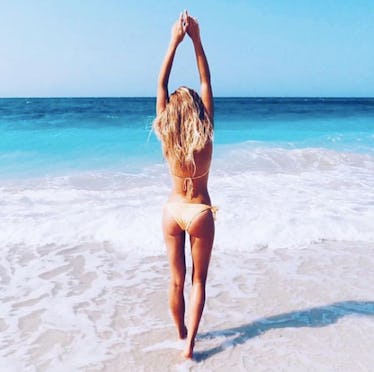 I DIY My Own Bikini Waxes & Here's How You Can, Too
My biggest concern about lounging in a bikini is my actual bikini line. I'm a brunette and I have thick hair all over my body. Even when I obliterate every hair in sight, I usually still have bumps, ingrown hairs, and discoloration to worry about. So, I did a bit of research for ways to make my bikini line look and feel smooth, because summer is not over! Ahead, the best at-home bikini hair removal tips — you know, if that's something you're into. Everything from a full bush to a Brazilian is rad in this world.
Waxing
So, my friends think I'm crazy for this, but I do my own bikini wax at home. Shaving doesn't work for me, and I'm yet to work up the courage to walk into a salon and expose my stubble to a complete stranger. I do it in the comfort of my own bathroom (no appointment necessary), and I'm always happy with the results. All I'm saying is don't knock it 'till you try it.
Start by gathering your materials. I'm not a fan of microwavable wax — it either gets too hot or doesn't melt enough, but one thing is for sure: It's messy as hell. I prefer wax strips. They're super easy to use: Just rub between your hands, peel apart, stick, and pull. Here are my all-time favorite brands to use:
Parissa Wax Strips for Face & Bikini ($10; ulta.com)
Sally Hansen Hair Remover Wax Strip Kit ($5; target.com)
Sweetease Bikini Waxing Kit ($4; ulta.com)
These three brands are my go to for at-home waxing. They grab onto each hair and remove them on the first try — and would you believe me if I said they actually aren't that painful either? And the best part about wax strips is they're perfect for travel. So whether you ran out of time before your flight, or you're just packing a few for unexpected emergencies, wax strips are the way to go.
If you're in a pinch and only have a razor on hand, Master Esthetician Amy McLain suggests you "shave gently and slowly in the direction of hair growth. It's good to be mindful of the number of passes you are doing as well. Keep in mind you are taking a blade to your skin – every pass is exfoliating the skin."
Exfoliating
OK, believe it or not, waxing is actually the easy part — it's the aftercare and moments between waxes that take the most work.
If dark spots are a concern for you (they are for me!), exfoliating the area will make all the difference. Amy Regan, CEO, SweetSpot Labs says, "hyperpigmentation or dark spots can occur after shaving, picking at a skin irritation or can be caused by hormone fluctuation. For people with medium to dark skin tones it can also cause an over production of melanin." Regan recommends "exfoliating daily with glycolic acid and moisturizing the area."
These Sweetspot Buff & Brighten Body Exfoliating Pads ($25; sweetspotlabs.com) make it easy to keep up with your exfoliation routine, and Regan adds, "willow bark extract helps reduce dark spots, evening out skin tone over time."
Moisturizing
If you have thick body hair like me, you might be more prone to ingrown hairs and bumps. Sometimes, all you need is to moisturize between wax and shaving sessions.
I use this Fur Oil ($44; furyou.com) immediately after my DIY bikini wax to soothe inflammation, and it melts away any traces of sticky wax left behind. When used in between sassions, it softens the hair, which prevents ingrowns, and keeps skin smooth and moisturized.
So whether you ultimately decide to book an appointment with your local esthetician, or you prefer to DIY like I do (via wax or a razor), incorporating a simple routine of exfoliation and moisturization will be the difference between smooth sailing and a cruel summer. Or you can just rock what Mother Nature gave you.