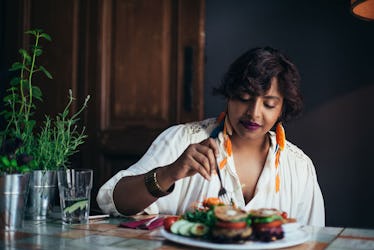 The One Meal Delivery Service You Have To Try If You're Looking To Go Keto
When I first heard the buzz about the ketogenic diet, I couldn't be happier. Finally, it seemed, I had an excuse to eat all of the almond butter my heart desired. Of course, once I did more research, I discovered there's a lot more to keto than absolutely decimating a jar of nut butter. Jumping into a new way of eating can seem overwhelming without some expert guidance. If you've always wondered about whether the keto diet would work for you, but you haven't figured out how to get started, the new Be Well Eats Keto meal delivery service may be just what you need to dive in and see how it makes you feel.
Luckily, many delicious foods like avocado, peanut butter cookies, and roasted fish can all be part of a healthy keto lifestyle, and Be Well Eats Keto makes it easier than ever to enjoy these tasty meals. Created by Dr. Frank Lipman and celebrity chef Tricia Williams, the delivery service (which also has a paleo option, if that's more your style) starts at $90 a day, and all of your meals can be delivered to your door every weekday before 6 a.m. So far, deliveries can go out to locations in NYC, Greenwich, Stamford, Connecticut, and the Hamptons.
In case you're not familiar with the diet, keto's guidelines are hyper-focused on natural nutrition. In a past interview with Elite Daily, health and wellness practitioner Richard Purvis explained that on keto, "your body has a more sustained and reliable energy source, allowing you to feel more energized throughout the day." So if you've felt more than a little "meh" lately, eating this way might help get you back to your healthy, feel-good self. By skipping grains, dairy, and sugar for a while, and getting in plenty of healthy fats, your body should reach what is called "a state of ketosis." When this happens, Be Well Eats' co-creator Tricia Williams says, you begin to use your body's fat as a fuel source.
Be Well Eats Keto prioritizes using quality sources of fat. Good fats, Williams says, come from sources like avocado, coconut oil, nut butters, and tahini. "The biggest mistake we see people make is having nitrate-filled bacon and tons of dairy!" she tells Elite Daily.
If you're more comfortable ordering Postmates than julienning veggies, don't worry — Be Well Eats Keto gets you.
You don't have to do any lengthy prep work or cooking when you sign up for Be Well Eats Keto. You can eat the breakfasts and lunches just as they're delivered, and a few minutes in the oven (in the same container it comes in — #bless) is all that's required to warm your dinner to perfection. And, let me tell you, Williams and her team have thought of everything. The meal containers themselves are made from pressed vegetable grasses, making them fully compostable. Can you believe?
As for the food itself, the meal delivery service believes in a "quality over quantity" motto: "Be sure to incorporate lots of leafy greens in your diet," Williams tells Elite Daily, adding that it's equally important to "choose from responsibly sourced animal products and fats."
In case you're worried that a "diet" of any kind automatically translates to dull, gross food, Be Well Eats Keto features a selection of eats that are the furthest thing from boring.
Some of Be Well Eats Keto's delicious options include cashew cinnamon schisandra grain-free waffles with berries, garlic roasted lamb with mint roasted root veg, and so many more nutrient-rich, mouth-watering meals. If you have food allergies, the team at Be Well Eats Keto tells Elite Daily they're committed to accommodating your needs. And luckily, the entire keto plan is already gluten-free and dairy-free, so no worries there.
While Williams says that entering a state of ketosis promotes increased energy and mental focus, it's important to note that it may take a while for your body to adjust to the diet. One thing to watch out for: feeling thirstier than usual. This is a totally normal response for you to have, and your body should be able to adjust after about a week, tops.
So if the keto diet sounds right for you, Be Well Eats could be an excellent, and most importantly, super easy way to introduce your body to the meal plan. Also, need I mention the nut butter again?