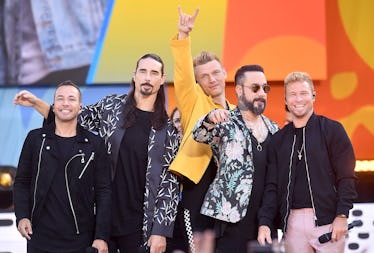 The Backstreet Boys Insisted On Singing Painful Covers Of The Song Of The Year Nominees
Michael Loccisano/Getty Images Entertainment/Getty Images
The Backstreet Boys were on-hand to present the Song of the Year award nominees at the 2018 MTV Video Music Awards — and, well, they did it with a really, really awkward performance. The Backstreet Boys singing the Song of the Year nominations at the 2018 VMAs was honestly one of the most cringeworthy moments of the night.
So, it's no secret that the Backstreet Boys are kind of old-school at this point. While their presence at any awards show gives everyone a bit of nostalgia, it's not always easy for these guys to fit into today's music scene. Fans are so used to seeing them as a boy band from the '90s that they just seem strangely out of place among today's set. And the 2018 VMAs was really no different.
Take, for instance, their performance during the VMA pre-show. The Backstreet Boys were surprisingly out of sync (no pun intended, I swear) with each other and generally gave a lackluster performance. Not exactly what fans were expecting from the icons of their generation, right? Not at all.
On top of their disappointing performance, the Backstreet Boys were also tasked with presenting Song of the Year, and they decided to tackle their moment onstage with a little singing. And that didn't go so well, either.
Just as a refresher, the nominees for Song of the Year were as follows:
Bruno Mars ft. Cardi B – "Finesse (Remix)"
Camila Cabello ft. Young Thug – "Havana"
Drake – "God's Plan"
Dua Lipa – "New Rules"
Ed Sheeran – "Perfect"
Post Malone ft. 21 Savage – "rockstar"
So, just imagine the Backstreet Boys singing their own, boy band-inspired version of all of these songs. They even sang the Post Malone song, which was super cringeworthy, if you ask me.
Here's a peek at them singing "Havana":
Needless to say, though, fans of the Backstreet Boys were loving every second of it. Even in spite of their not-so-great vocals at the show, their legion of fan supports them 100 percent. They even took to Twitter to make sure the world knows how much support is behind these guys' careers.
Here's what fans are saying about the awkward night the Backstreet Boys are having:
So, basically fans weren't shy at all about dropping some knowledge about their favorite boy band. While the Backstreet Boys may be a bit older than they once were, that doesn't take away from all they've accomplished.
They've literally been around for over two decades, have countless fans to support them, and more hits on record than some of today's biggest pop stars. These guys may be a bit rough around the edges right now, but they totally deserve respect for everything they've accomplished over the course of their careers.
Whether you like the Backstreet Boys or not, their talent and their music is legendary at this point. They may be super cringeworthy sometimes, but that's just all part of what makes them so endearing.
I mean, what's not to love about five guys who are so passionate about music that the'll sing anything they can get their hands on?