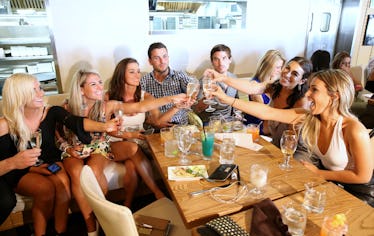 The 'Bachelor In Paradise' Season 5 Premiere Date Is Here & It's Sooner Than You Think
Jesse Grant/Getty Images Entertainment/Getty Images
"Almost Paradise... we're knocking on heaven's door..." If that sappy theme song gets you pumped, have I got good news for you... The Bachelor in Paradise Season 5 premiere date was officially announced on Wednesday and the steamy dating competion is returning to ABC faster than you can say "here for the right reasons." The show returns on Tuesday, August 7 with a two-hour episode, so get ready for more romantic fun in the sun, couples drama, and probably Chris Harrison running on a beach at some point. Summer has truly arrived, people!
The cast list for Bachelor in Paradise hasn't been unveiled as of yet, but Bach Nation can expect to see familiar faces from Becca's current Bachelorette season, participants from Arie's Bachelor lineup, and maybe even a few international contestants this time around. Face of the franchise Chris Harrison already teased that the upcoming installment will be a "who's who" of fan favorites. The insider told E! News in May,
I've heard [about] some people. It's a who's who... of Bachelor favorites and a lot of obviously recent names that will be coming from this season of The Bachelorette, people that you haven't even met yet. Obviously, last season with Arie, you have a lot of great Bachelorettes from that. And then we want to sprinkle in some big hitters from other seasons as well. It's good. We have a lot of good names...and then there are surprises you're going to enjoy as well.
With this year's introduction of the Bachelor spinoff The Bachelor Winter Games, Bachelor Nation welcomed cast members from across the globe into their lives, changing the game moving forward.
"I definitely think you'll see some international faces, but not sure how many or where they are going to come from," ABC exec Rob Mills revealed in March.
You can also prepare for the series to incorporate new elements now that Winter Games format is being taken into consideration.
"There were a lot of learnings from Winter Games, where it wasn't a show where you were bringing in people every week," Mills also explained to E! News. "There will certainly be the hallmarks of Bachelor in Paradise, but I think we will definitely take into account the stuff from Winter Games, where it definitely seemed to form some really strong couples, and at the end of the day that's the goal."
Something fans can count on: at least one love story with a happy ending. Spoiler alert that you're probably already aware of! Two Paradise alums are engaged. OK... they're not exactly contestants on Season 5, but they are well-known Paradisers of yesteryear (well, seasons 2 and 3). Jared Haibon proposed to Ashley Iaconetti in Mexico on Sunday, June 17, so it sounds like viewers will get to watch him pop the question on the show. It all comes full circle! I hope she had tissues handy...
The Bachelorette is in the middle of its fourteenth season at the moment and it's likely that a handful of Becca's cast-offs will make the BiP cut. One short-lived standout in particular might just get a second chance at love this summer — Grocery Store Joe, the charming Chicago native who got booted in episode one. The outcry for #JusticeForJoe from Bachelor Nation was so overwhelming that even Chris Harrison weighed in on the fan fave's fate right away.
Real subtle, Chris.
Who will hopefully follow in the sandy footprints of memorable Paradise matches like Ashley and Jared, Jade and Tanner, and Raven and Adam? The world will know soon enough when summer officially heats up in August.
Bachelor in Paradise is set to premiere Tuesday, August 7 at 8 p.m. on ABC.