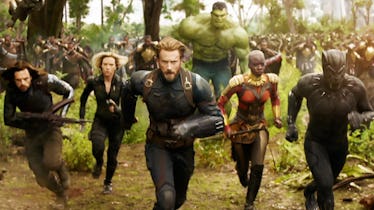 The 'Avengers: Infinity War' Ratings Will Make Marvel Fans Run To The Theater ASAP
Marvel
If you were listening the afternoon of April 24, you may have heard a noise, a disturbance in the Force, like a thousand reviewers crying out at once. That, dear friends, was the sound of the Avengers: Infinity War review embargo lifting after Monday night's premiere and Tuesday's limited press screenings. So, how did the film with no less than 22 main characters to its name fare in the opinions of those paid to judge such things? Well, currently, the Avengers: Infinity War ratings stand on Rotten Tomatoes at 90 percent and rising. After the record-breaking hit that was Black Panther, it looks like this could be Marvel's year to run the table with two highly-rated films in a row.
Some of the reviews highlighted on Rotten Tomatoes promise audiences a stunning experience. Michael Sullivan of The Washington Post is quoted as saying:
Infinity War is big, blustery and brave, taking viewers to places that they may not be used to going.
And Peter Travers of Rolling Stone enthuses:
The Russo brothers have clearly never learned the concept that less is more. They've used the premise of an Avengers reunion to put on a fireworks explosion of action and laughs (those roguish Guardians!) that won't quit.
My personal favorite comes from the Associated Press, which snarks:
After 10 years of lean, threadbare, Lilliputian tales, Marvel Studios has, thank heavens, finally decided to go big.
For those who have somehow not yet gotten tickets, trying to score them this weekend might be a problem, as many showings have sold all the way out. According to Box Office prognosticators, Avengers: Infinity War pre-sales and enthusiasm spell out a weekend that may shatter every Marvel movie record set so far.
Deadline suggests the film could be in for a monster weekend.
Tracking has it ranging from $216 million-$235 million, which on the high end would be the second-best domestic start of all time beating Star Wars: The Last Jedi ($220M). Some believe the movie has the power to get to $275M, an opening that would best Star Wars: The Force Awakens' all-time record ($247.9M) by 11%. Still, even if this film sinks to the high-$100Ms, which no one is really expecting, Marvel's platinum records haven't tarnished.
In terms of Marvel movies, the No. 1 all-time opening is still 2012's The Avengers, with a $207 million opening. (Black Panther stands at No. 2 with $202 million.) The numbers currently estimated blow that out of the water.
Then, there's the worldwide box office. In more cases, Marvel movies do not open in the U.S. until they've already been open a week in the UK and other countries. But the spoilers for Infinity War were such that Disney judged a week's delay for the states to be too long and bumped the premiere date back a week. That means Infinity War is looking to eye a global debut the same weekend it does a domestic one, and the numbers are stunning.
According to Deadline's calculations:
As for overseas, industry sources are pegging the bow from $256M-$263M with some also seeing it reach $275M. Outside the $275M predictions, the domestic and international ranges equal a global bow from $472M-$498M — $500M-plus does not appear out of the question. If it hits the low end of that worldwide range, it would rank as No. 5 all time; on the high end, it lands at No. 4. We'll gauge the bigger predictions as play starts to roll.
With a budget that was somewhere in the $300-400 million range, if Infinity War manages to land in the $470 million range of estimates, that means it will have made its entire cost back in one weekend, just as Black Panther did. Now that's a 10-year anniversary present.