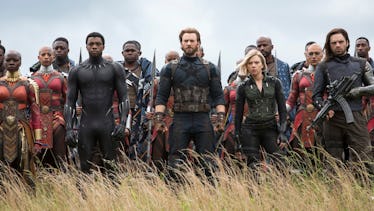 The 'Avengers: Infinity War' Final Scene Was Literally Too Much For Fans Too Handle
Marvel Studios
Spoiler Alert: Spoilers for Avengers: Infinity War follow. Even if you were trying to avoid plot details of Avengers: Infinity War before attending your own screening, you probably caught sight of some heavy reactions to the superhero mashup's grand finale scene. Understandably, Marvel has broken our hearts in exchange for our ticket prices, and the Avengers: Infinity War final scene is still way too much for fans to handle. The wait until its May 2019 sequel never seemed as long as it did while watching that final shot of the surviving Avengers looking out into the unknown.
Marvel movies always end with a climatic battle sequence, but there are usually a few scenes afterwards that explain what the characters are up to now that the latest force of evil is defeated. Such wasn't the case in Infinity War, because the battle was essentially the ending. After Doctor Strange willingly gives Thanos the Time Stone when Tony's life is in danger, Thanos' army descends upon Wakanda, where the other Avengers had employed the help of Shuri to safely extract the Mind Stone from Vision. The plan is for Wanda to destroy the Stone once it's removed, but she and Shuri run out of time, forcing Wanda to eliminate both the Stone and Vision simultaneously. Welp, there goes one of the only glimmers of romance left in the Avengers franchise.
However, in the buildup to the film's final scene, Thanos comes across the pair just as Wanda manages to destroy Vision. Thanos uses his Stones to turn back time, bringing Vision back to life in order to remove the Stone and kill Vision (again) in the process. Now with all six Infinity Stones in his possession, Thanos' quest to rid the world of half the population officially begins.
One by one, the superheroes begin to disintegrate into a dirt-like substance before vanishing completely. While T'Challa's motionless body mysteriously remains in sight, Captain America, Thor, the Hulk, Black Widow, Okoye, and War Machine are all in one piece in Wakanda. Across the universe, Iron Man is now solo after watching Doctor Strange, Spider-Man, Peter Quill, Drax, and Mantis disappear around him. Before the movie cuts to credits, we see the remaining Avengers surrounded around the shell of Vision's body, grimly looking into the distance.
While Infinity War's post-credits scene provides some hope for Avengers 4, that hasn't stopped fans from freaking out over the movie's Doomsday-esque ending. Twitter has exploded with reactions to the controversial ending:
The true culmination of the past decade of Marvel movies comes with Avengers 4's May 2019 arrival, but directors Joe and Anthony Russo haven't always had a clear idea about where the story will go. Speaking to Screen Crush, Joe Russo said:
You've never seen this many interconnected franchises all successful being combined into one film. That's what appealed to my brother and I and [screenwriters Christopher] Markus & [Stephen] McFeely, our main collaborators on our four Marvel films. So that is part of the fun of it. The fact that it is a blank slate going into the room with the four of us, sitting there for weeks on end with literally magnets on a board of every character that exists in the Marvel Universe, all the Infinity Stones and their potential locations, and reams and reams of information that we're assessing and then pulling a narrative out of it. It's about as hard as it gets from a storytelling standpoint but really rewarding.
We may have always expected deaths in Infinity War, but the circumstances of these "deaths" were so mysterious that I don't know if I can manage this much uncertainty for a year. Fan theorists, send me some possible solutions ASAP!