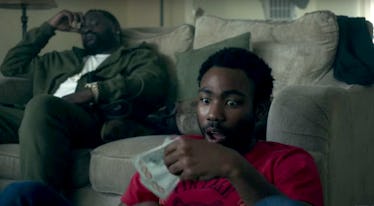 The Trailer For 'Atlanta' Season 2 Will Leave You Begging For More Donald Glover
FX
Is there anything that Donald Glover can't do? He proved his incredible comedy chops on Community, 30 Rock, and his standup specials, just nabbed an Grammy for his hit soul song "Redbone" under his rap pseudonym Childish Gambino, and now he's already becoming one of the biggest movie stars of 2018 after landing lead roles in Solo: A Star Wars Story and the live-action Lion King remake. Oh, and on top of all that, let's not forget about his Emmy-winning TV drama. The Atlanta Season 2 trailer just dropped to remind you yet again just how talented Donald Glover is, in case you forgot.
The first official trailer offers fans our first real look at Atlanta Season 2, which is being subtitled Atlanta Robbin' Season. And it looks like there's a welcome reversal of fortunes for Donald Glover's character of Earn Marks, who we discovered was living in a storage unit at the end of Season 1. Though he wakes up in that storage unit in the trailer, we later see Earn holding a stack of hundred dollar bills, and then laying on a bed with his on-again-off-again girlfriend Vanessa, who happily remarks "You're gunna get us robbed." It all seems to suggest that Earn will have found some way to make a lot of cash in the new season.
Another development in the trailer involved Bryan Tyree Henry's character Paper Boi, the rapper who rose to new levels of fame at the end of Season 1. But now, it looks like Paper Boi is growing annoyed with his fame, as he spiritlessly mumbles his way through a radio ad and angrily notices a stranger covertly take his picture. Perhaps Paper Boi's growing success is what gets Earn all his new money in Season 2, but it's also clear that he doesn't seem totally happy with the drawbacks of fame.
The trailer also introduces viewers to the new season's theme, as Lakeith Stanfield's character Darius watches a group of teens run from police officers and remarks, "Robbin' season. Everybody gotta eat." After the season's subtitle was revealed, showrunner Stephen Glover explained robbin' season is an actual term used in the Atlanta area to denote the increased amount of robberies that happen in the city around the holidays. He described the period as a desperate and tense time, which also serves as a metaphor for where Atlanta's characters are at in the new season as they desperately aim ahead for better lives.
Check out the full trailer for Atlanta's second season Atlanta Robbin' Season below:
The new season of Atlanta is set to premiere in just a couple of weeks, on Thursday, March 1 on FX, and will consist of ten episodes, the same number as Season 1. The first four episodes of Season 2 will be titled "Alligator Man," "Sportin' Waves," "Money Bag Shawty," and "Helen," respectively.
Atlanta's first season was a massive critical success, receiving widespread rave reviews (it holds a 100 percent on Rotten Tomatoes) and garnering two Golden Globes and two Emmys, including Best Actor trophies at both ceremonies for Donald Glover. Despite the huge success of its debut season, Atlanta delayed the release of Season 2 until 2018, a year and a half after the first season ended. The wait was due to Glover's increasingly busy schedule, since the star had signed on to Star Wars' Han Solo standalone and The Lion King as Simba following Atlanta's breakout appeal. But now, the wait is finally almost over.
Atlanta Season 2, officially titled Atlanta Robbin' Season, will premiere on Thursday, March 1 at 10 p.m. ET on FX.