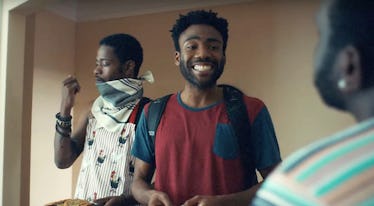 The 'Atlanta' Season 2 Promo Featured The Perfect Jam To Add To Your Playlist
FX
Sunday night was an amazing night for TV fans, and no, not because of the Golden Globes — it was because Donald Glover's beloved series Atlanta finally unveiled its first teaser for its second season. Midway through the Golden Globes, viewers got to see a moody, entrancing trailer for the upcoming second season of Atlanta. And although the teaser got everyone excited for Earn, Paper Boi, and the rest of the gang to return to our TV screens, it also had a lot of people asking what song was playing in the Atlanta Season 2 promo. The wordless trailer is soundtracked by the super chill, addictive R&B track "Too Fast" by the rising hip-hop group Sonder.
The new teaser follows Earn (Donald Glover), Paper Boi (Brian Tyree Henry), Darius (Lakeith Stanfield), and Vanessa (Zazie Beetz) through various scenes: we see them chilling in the club, on a car next to a large lizard, and walking down the street at night. Sonder's mellow jam "Too Fast" sets the tone for the laid-back, effortlessly cool first look at the new season. Atlanta will be back for its second season in less than two months, returning on March 1 at 10 p.m. ET on FX. Check out the first teaser for the new season below:
Sonder's laid-back single "Too Fast" was the perfect fit for Atlanta's dark and moody trailer for Season 2. "Too Fast" was the first song that Sonder ever released, putting it out towards the end of 2016 right after announcing that they were forming. Sonder consists of three musicians that have become increasingly buzzy in the hip-hop community: Brent Faiyaz, Dpat, and Atu. You can listen to "Too Fast" in full and check out Sonder's captivating music video for the song below.
Although the new Atlanta teaser is definitely super cool looking and totally getting fans pumped for the show to come back, it does not really tell us a lot about what will happen in the second season. Luckily, the show's creative team has already revealed a good chunk of what we can expect from Season 2.
At a Television Critics Association panel earlier this month, showrunner (and Donald Glover's brother) Stephen Glover revealed that the second season will include a unique subtitle: Atlanta Robbin' Season. Glover explained that robbin' season is an actual term used in Atlanta to refer to the increased number of robberies in the area around the holidays. He said that this "tense and desperate time" serves as a metaphor for where Atlanta's main characters have found themselves after the events of Season 1:
It's a very tense and desperate time. Our characters are in a desperate transition from their old lives to where they're headed now. And robbin' season is a metaphor to where we are now.
The first season of Atlanta ended with Paper Boi still on the rise as a buzzy local rapper, but Earn's relationship with Van is on the rocks, and it's revealed that he has been living in a storage facility.
The debut season was met with tremendous critical love after premiering in late 2016 — Atlanta took home two Golden Globes that year, and a pair of Emmys to match. However, the show had to take a long hiatus and totally skip 2017 after Donald Glover got cast to play young Lando Calrissian in the upcoming Han Solo standalone Star Wars movie. The rest of the main cast stayed busy this year as well: Brian Tyree Henry appeared in movies Crown Heights and Person to Person along with popping up in This Is Us and How to Get Away with Murder; Lakeith Stanfield had a memorable turn in Get Out and starred in a number of Netflix projects, including Death Note, The Incredible Jessica James, and War Machine; and Zazie Beetz starred in Easy and Geostorm, and she also got cast to play Domino in Deadpool 2.
Atlanta Season 2 will debut on March 1.