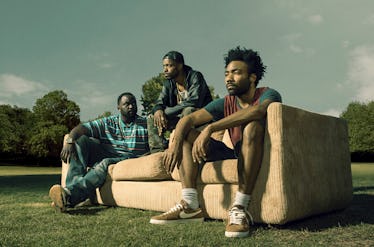 'Atlanta' Season 2 Officially Has A Premiere Date & It's Sooner Than You Think
FX
It's been over a year since the Donald Glover comedy drama Atlanta has graced our screens. FX's critically acclaimed hit was one of its biggest Emmy contenders this past year, in a sea of Ryan Murphy shows. But with Season 1 being only 10 episodes before Glover disappeared to hang out in a galaxy far, far away with Young Han Solo, fans were becoming anxious that Earn and Paper Boi might not be back soon. When does Atlanta Season 2 premiere?
It turns out the answer is a whole lot sooner than we were expecting: Surprise! The show is returning March 1, 2018, at 10 p.m. ET. Even better, we have an idea what the new season might be about, as instead of going with a traditional "Atlanta Season 2" moniker, they're calling it Atlanta Robbin' Season.
How did Glover pull off such a quick turn around one filming wrapped for Solo: A Star Wars Story? Turns out he prepared before heading out for the Millennium Falcon, by assembling the writers room for Atlanta Season 2 way back before he left. This way, when he returned they could launch right into filming in order to get the show's second run of episodes up during the 2017-2018 season.
Here's the synopsis:
Glover reprises his role as Earn Marks, a young manager trying to get his cousin's (Brian Tyree Henry) rap career off the ground while juggling a friendship with his cousin's right hand man Darius (Lakeith Lee Stanfield), a relationship with his best friend and mother to his child Van (Zazie Beetz), and of course fatherhood.
As for what Season 2 will be about besides that, Glover's been playing it close to the chest. Talking to The Hollywood Reporter, all he promised is that the show would continue to be as daring as it was in Season 1.
I don't want to go into Season 2 [saying] 'Enough people liked it so just keep those people,' because then you begin to give your audience a methadone drip of bullshit that keeps them happy as opposed to... We did something controversial and more people were interested.
As fans of Atlanta know, this is not any ordinary series, but one that could only have come from Glover. He is the heart and soul of the show, drawing on his experiences growing up in the Georgia city, and diving into the story in a way that many TV creators are afraid to do in the early going, lest they drive away viewers.
Glover's bold vision for the show, as well as his excellent performance in it, has earned him an Emmy for acting and another for directing, as well as a Golden Globe and a Critics' Choice Award. The show also took home another Golden Globe for Best Comedy Series and a Peabody Award for excellence in entertainment.
But if you think the cast of Atlanta has been sitting around cooling their heels waiting for Glover to return from outer space, not to worry. The show's acclaim hasn't just bolstered his career but the careers of everyone associated with it, it seems. Zazie Beetz probably has the biggest role, co-starring in the highly anticipated Deadpool 2. She's not the only superhero either, as Brian Tyree Henry landed Spider-Man: Into the Spider-Verse, as well as roles in Barry Jenkins' If Beale Street Could Talk, and Steve McQueen's Widows. Lakeith Lee Stanfield was recently heard in Netflix's Death Note and also had a role in The Incredible Jessica James.
For those who cut cable cords and are wondering how you can see Atlanta, don't worry. In May of this year, Hulu picked up the second run rights to the series. Season 1 will be streaming for those to do a catch up binge ahead of the Season 2 premiere, and the second season will be come available as soon as the run finishes on FX.
Atlanta Robbin' Season debuts on FX on March 1, 2018, at 10 p.m. ET.