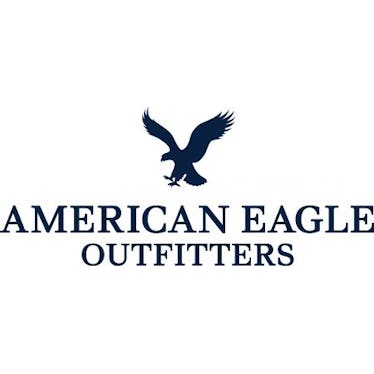 The American Eagle Black Friday Sales 2017 Are This Year's Best Kept Secret
American Eagle
Thanksgiving is a mere 48 hours away, which means the year's most outrageous shopping deals are just around the corner. And while most retailers have announced their annual discounts, the American Eagle Black Friday sales 2017 still remain shrouded in mystery, as the brand has yet to publicly pinpoint what discounts it will offer. Why this form of cruel and unusual punishment, AEO?!
If you're anything like me and feel the need to map out your plan of spending/attack pre-Black Friday, then not knowing how much you should allot to American Eagle purchases — much less what you'll want to be buying from them — is not ideal. I did a little research to see what types of items and promotions they've offered in years past, in hopes of being able to provide an educated guess as to what this year's sale will entail. And if my sleuthing is correct, it's probably not such a secret, after all.
Before we get into that, it's important to note that American Eagle is currently offering 40 percent off "everything you need to give and get," according to their website. Fragrance, Aerie undies, and unspecified "other items" are not included, but shipping is free so we forgive them. (But just barely, because Aerie undies freaking rule.)
According to NerdWallet, last year's AEO Black Friday deal offered 40 percent off the store's holiday collection both in store and online, as well as free shipping. The same applied to their 2015 sale. So based on this intel, I'm going to go ahead and assume that the promotions the brand is currently offering will continue through Black Friday, meaning you've got ample time to scope out their best items.
If I was a rich girl (na-na-na-na-na-na-na-na-na-na-na-na-na-na-naaaaah), here's everything I would buy from the current, almost half-off deal.
Stripe It Down
These are what I want to wake up in on Christmas morning. They are soft, warm, and will make your legs look like walking candy canes. Hard yes.
Heavy Metal
Ever since Beyoncé dropped her silver Ivy Park puffer, I've been dying to get my hands on a shiny coat of my own. This one is an absolute steal. I especially love its hood; it's perfect for rainy days, blizzards, and beyond.
50 Shades Of...
There's nothing better than a chunky knit when cold weather hits! This one is cropped, meaning it lends itself to being easily dressed up or down, and never looks frumpy.
Dust It Off
This robe-cum-duster coat is the ultimate transitional piece. Wear it over a sweater and jeans in the winter, and transition it to the spring over a black minidress and booties.
With A Ribbon On Top
A little black skirt is just as essential as a LBD. This one has lace-up ribbon details that take it one step further than your average denim skirt. Its elastic waist and deep pockets make for ultimate convenience.
Winter Classic
Super soft and pair-able with literally anything, may I introduce the must-have jean jacket of winter?
Flip It & Reverse It
This jacket as it appears above is already worth getting on its own. (It's giving me major '70s vibes and, as I've mentioned before, I love that decade for fashion!) But the fact that it's reversible and transitions into a white coat with red piping makes even more covetable. Two coats in one.
Don't Sweat It
The inside-out aspect of this sweatshirt is like an upgraded version of terrycloth. If you're ever getting your makeup or hair done, this would be ideal since you can unzip it at the shoulder and make the neck opening double the size.
Off The Cuff
You can never have too many pairs of black pants in various silhouettes, and at under $30, this cute, relaxed cuffed pair is a steal. Pair with booties.