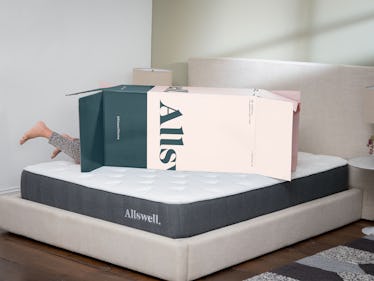 This Brand Is Selling Mattresses For Just $300, So Your Wildest Dreams Have Come True
When you really think about it, you spend so much of your time sleeping — and listen, I'm not complaining about that. Snoozing is the best, and if it were socially acceptable, I would stay in my bed for days upon days at a time; I'd even take my meals and visitors whilst cozily wrapped up in my blanket burrito. If you're as passionate about your bed as I am, then the recent release of The Allswell hybrid mattress, which is only $300, might just make you cry out of sheer joy. After all, if you've ever shopped for a mattress before, then you know that $300 would usually get you a used futon at best, or like, maybe a deluxe cot.
Yes, the (bed)times are changing, my sleep loving pals. According to a press release on Allswell's new hybrid mattresses, which was sent directly to Elite Daily, when the brand first launched in February 2018, its whole mission was about making a good night's sleep — and a really good, comfy mattress — accessible to everyone. The goal was, and continues to be, to make quality mattresses that are still reasonably affordable — and dang has Allswell succeeded, guys.
As per the brand's press release, Allswell describes its new hybrid mattress — and, BTW, "hybrid" simply means the mattress has both springs/coils and some memory foam action, all in one bed — as both "disruptively-priced" and "unbelievably comfortable." In other words, this mattress is basically here to make all of your wildest dreams come true.
According to Allswell's press release, the mattress, simply called "The Allswell," can be purchased as a twin ($245), a full size mattress ($315), a queen ($345), or a king ($420) — and, if I had to guess, you're probably wondering how in the world this brand was able to design a mattress that's so ridiculously affordable at every size.
Well, as per its press release, Allswell says it's focusing its efforts on bringing quality, hybrid technology to its customers — aka "mattresses that pair the supportive benefits of memory foam with classic feel of coils (or springs)." Of course, that hybrid technology isn't new for the brand — in fact, Allswell saw "such strong demand for its Luxe Hybrid" mattress earlier this year, that the queen (which costs $585) and king ($745) sizes actually sold out for a while (don't worry, they're back in stock as of right now).
So, once Allswell noticed how hungry its customers were for this deliciously cozy hybrid technology, it set out to make an even more affordable version of the mattress. "They told us we couldn't make a Hybrid this exceptional at a price this accessible...but that's what fueled us to do it," Arlyn Davich, Allswell's president, said in a statement for the press release.
And thus, The Allswell was born.
For as low as $245, the Allswell boasts some seriously impressive features, such as three different types of luxurious memory foam, "layered for supreme comfort," as well as individually wrapped coils that "minimize motion transfer," according to the brand's press release. In other words, your SO won't be stirred awake if you have to roll out of bed before they do — but good luck getting up at all in a bed that's this cozy.
If the price and the thoughtful construction behind The Allswell isn't enough to pique your interest, don't you worry, my friend — there's more. According to the brand's press release, not only can you order The Allswell with free ground shipping, you also have the freedom to try out the mattress at home for 100 nights as a risk-free trial. How cool is that?!
So, if I've gotten your attention, you can check out The Allswell on AllswellHome.com, or you can find the mattress at Walmart — your call. Either way, I dare you to find a better mattress deal.