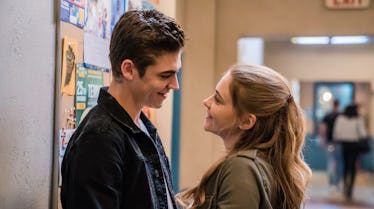 The 'After We Collided' Cast's Instagrams Will Quench Your *Thirst*
Aviron Pictures
Every once in a while, a series comes along that's so steamy, you can't help but fall in love with the actors who play the iconic parts. The After series, based on the novels of the same name by Anna Todd, is the definition of one of those sultry watches. The first film adaption was released in 2019, and now with the second film finally out in the U.S., it's time to do some digging and find your off-screen crush. Judging by the After We Collided cast's Instagrams, the actors are just as smokin' IRL.
In case you were too distracted by the sex scenes to pay attention to the plot, here's a quick recap: Tessa (Josephine Langford) heads off to college, where she meets bad-boy Hardin Scott (Hero Fiennes Tiffin). Naturally, she ends things with her high school boyfriend Noah (Dylan Arnold) and the two get together. Unfortunately, she learns Hardin got with her as part of a bet and the first film ends while the two are broken up.
After watching the trailer for After We Collided (and reading the book, if you're a fan of spoilers), it's clear the drama —and steamy hookups — are just getting started. Take a peek at the faces you'll be seeing on-screen and in your dreams now that the second installment is available to watch in the U.S.
This article was originally published on