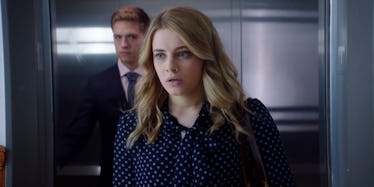 'After We Collided' Is Finally Out In The U.S. — Here's How To See It
Offspring Entertainment
U.S. fans had to wait a little longer than expected for the After sequel to be released domestically. Although the film was made available in countries across Europe in September, over in the States, viewers weren't able to watch it until Oct. 23. So, now that it's available, here's how to watch After We Collided in the U.S.:
After We Collided is the sequel to After, and both films are based on Anna Todd's best-selling novels of the respective same names. The new film picks up where After left off, with Tess (Josephine Langford) and Hardin (Hero Fiennes Tiffin) apart, and a new man named Trevor (Dylan Sprouse) coming into the picture. But as Tessa and Hardin find their way back together, things get even more complicated than ever before.
Originally, the film was supposed to release in the U.S. on Oct. 2, but in September, the After We Collided cast took to Instagram to announce the three-week delay, which appeared to be due to coronavirus safety concerns. "We know you can't wait to see what's next in Tessa and Hardin's story," Tiffin explained in the video. "But we also want everyone to feel comfortable and safe seeing the film."
The Instagram video went on to mention U.S. fans will be able to watch After We Collided both in theaters and on demand on Oct. 23. However, before you head to the cinema, make sure to check local listings, because only select theaters are showing the film. (And consider the health risks associated with going out to the movies during the coronavirus pandemic.) Your best bet will likely be to find it on demand, so you can watch it the second it's available on your TV, phone, or computer. It's available to rent or buy in all the typical on-demand spots: Amazon, iTunes, Google Play, and Vudu.
If you can wait even longer, there's also reason to believe After We Collided will hit Netflix at some point in the future. The first film, After, debuted on Netflix in Oct. 2019, six months after its theatrical debut. There have been no official announcements for something similar happening with the sequel, but assuming the second film will stick to its predecessor's schedule, After We Collided could be on Netflix sometime around March 2021.
This article was originally published on