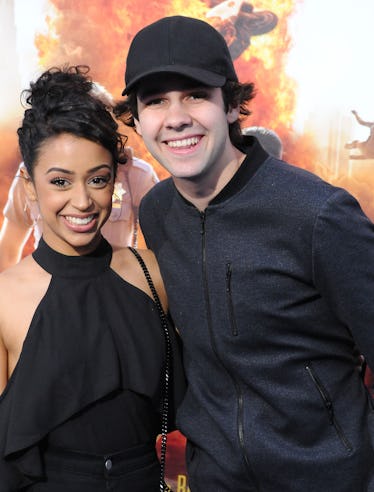 David Dobrik & Liza Koshy's Best Vlogs Will Have You Giggling For Days
Barry King/Getty Images Entertainment/Getty Images
Dobrik and Koshy are two of the most hilarious people on the internet, so the fact they once dated and made content together for your viewing pleasure on the regs was the biggest blessing. If you were ever in need of a pick-me-up, a new video from them was always there to do the trick. But then they broke up, and the Dobrik x Koshy content you knew and loved slowed down, which was a huge bummer for fans. But thank the YouTube powers that be, because you do still have plenty of epic vlogs to commemorate their chemistry, and the best David Dobrik and Liza Koshy vlogs will have you practically rolling on the floor with laughter.
It should be noted, despite their 2018 breakup, Dobrik and Koshy are still friends. Dobrik even admitted he loves to reminisce on their old videos. Just look at the way they were able to joke about their split in their video announcing their breakup to fans. And you know what they say: Exes who vlog together may not be together, but they definitely stay friends. Everyone definitely says that.
Anyway, the two YouTube stars never fail at figuring out new and exciting ways to entertain. Pranking each other to no end? You got it. Filling an entire pool with dry ice? They've done it. So there are so many awesome videos to memorialize their past romance and make you appreciate their ongoing friendship even more. These are all the must-see videos from the internet's favorite vloggers.