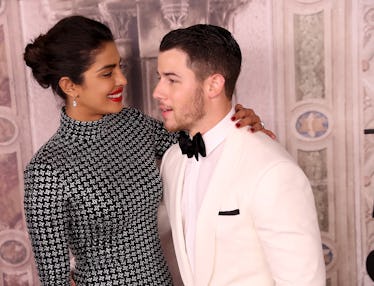 The 7 Most Dramatic Celebrity Weddings Will Make You Wish You Were Famous
Rob Kim/Getty Images Entertainment/Getty Images
Does being a celebrity seem like a bit of a drag? I personally hate the idea of having people photograph me every time I leave the house (I like to be photographed inside only, with the optimal lighting I spent years picking out, thank you very much). However, there are some obvious perks. Besides the money and the chance to register 10,000 people to vote at the last minute because you don't really care about politics, but sort of you do (thanks, T-Swift), you'd also get to be part of our culture of dramatic celebrity weddings. Because when you're professionally dramatic, why wouldn't your wedding also be?
I've compiled a list of incredible celebrity weddings. Some are beautiful, some are hilarious, and one or two might make you cringe, but they all have something in common — celebrity. If fame and weddings are two of your top interests, then we have a lot in common, and you'll enjoy these stories for sure. Nick Jonas made a name for himself dramatically lifting his head up while singing, so of course, you can expect his wedding(s) to carry the same amount of heart-throbbiness. I fantasize about my wedding regularly, but even in my wildest dreams, it couldn't go as far as some of these festivities.
Read on to find the seven most over-the-top celebrity weddings.