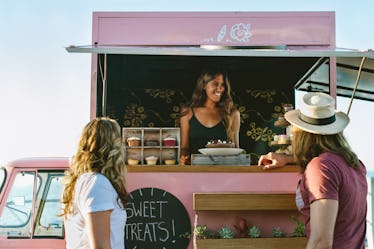 7 Dopest Food Trucks You Need To Know About In Your Favorite Cities
If food trucks had an anthem, it'd be, "started from the bottom, now we're here." Seriously, if any part of the culinary culture has made great strides to improve its market, it's the vans on the side of the road that, once upon a time, were just clunky vehicles selling too-strong or too-weak coffee and old bagels; they are now solid contenders in the food industry. Some of the best food trucks in your favorite cities probably go either unnoticed or ignored, because there's always been a bit of a stigma around food trucks that you get what you pay for: cheap food. Nowadays, though, I think it's safe to say that that toxic stigma is well on its way out.
While some food trucks may very well still be grimy and serve low-quality takeout you probably should pass on, mobile dining has drastically improved as a whole, and you need to take part in this great American pastime. Trust me, this is coming from someone who used to think dirty water hot dogs were the sh*t. If I weren't mostly meatless, I'd definitely still pause for a hot dog cart in the city, but legitimate food trucks with ovens, stove tops, and real chef's utensils to boot aren't just selling food, they're crafting culinary art. How lucky are you to be able to taste their genius?
To get you started, here are some of the best food trucks around the country to add to your foodie bucket list ASAP.